Missis Wladyslawa and Seniors

Please familiarize yourself with the entire description provided below. Mrs.Wladyslawa is 90. Until 80, she was a Caritas volunteer. Now, she needs some support herself. Our Charge had a difficult childhood and experienced many gloomy moments in her adult life. On the second day of Christmas in 2018, her fourth and last son died. Two of her sons died of cancer and the other two - of a heart disease. We met Mrs. Wladyslawa just before Christmas 2019. When we asked her what she wanted the most, she said that she did not want to be alone on Christmas Eve. 


Donate once or regularly:

Władysława openly states that the relationship with her mother was full of physical and mental violence. As a child, little Władzia heard many insults, unpleasant words, and slander from her mother. She experienced physical pain as her head was hit against the wall many a time. The mother did not allow Władysława to start education. The woman completed only two years of primary school and can hardly write her sign. When she was 12, she was left by her mother and was forced to take care of her severely ill father. During the initial years of her life, she did not even know her name, and she was only called in a highly discriminatory manner.

When she grew up and became the mother of four sons, she established a different relationship with her children. She ensured them a lot of love, warmth, and support. Władysława was glad that she had several children, as she was brought up without siblings. Even though she had a twin brother, he died two weeks after his birth.

Despite her traumatic experiences, she has a lot of inner strength and it is a pleasure to listen to her and look at her. She is very modest. Despite the horrors she experienced, she is very humble and happy to live. It is remarkable that - regardless of the traumatic experiences of her childhood and being mistreated by people - she still wants the closeness of other people.
When our support for Władzia started, the purpose of our collection was to help her with grocery shopping, buy medications for her, and improve her housing conditions. However, it all came to an end when - in October 2020 - Władysława could no longer walk and therefore had to be moved to a Nursing Home a month later.

About eighty other people live in the current place of residence of Władysława. Those are predominantly elderly people. We also frequently receive requests from seniors being in a difficult financial situation all over Poland. Therefore, while helping our lovely Władysława, we will also attempt to help other Seniors in need as much as possible.

Said people are often very ill and in many cases - they cannot count on the support of their families for various reasons. Older people are ashamed to ask their relatives for help because they do not want to be a burden for anyone. They assure their loved ones that they are doing great and that they feel amazing. Nevertheless, in reality, they barely make ends meet, live very modestly, and are even frequently unable to buy basic medications for themselves.

Mrs. Wladyslawa's needs we collect funds for:
Renovation of the bathroom

- Canceled due to the transfer of Władysława to the Nursing Home.
Purchase of both generally available and prescription-based medications. - We meet Mrs. Władyslawa's needs in this regard on an ongoing basis.
Purchase of food - We meet Wladyslawa's needs in this regard on an ongoing basis.
Purchase of hygiene products (liners, diaper pants). - We meet Władysława's needs in this regard on an ongoing basis.
Purchase of clothes and shoes. - We meet the needs in this regard on an ongoing basis.
Purchase of cleaning products. - Previously, we were meeting the needs of Mrs. Wladyslawa in this respect, but after her transfer to the Nursing Home, she predominantly requires personal hygiene products

New fridge-freezer.

- It was given to Mrs. Wladyslawa when she was still living in her home. Now, the equipment together with its owner have been transferred to the Nursing Home
Seniors' needs we collect funds for:

Basic food items. Household preparations and cosmetics for everyday use.
Purchase of both generally available and prescription-based medications.
Textiles and clothing; bed linen with sheets; towels.
Payment for medical treatments
Support in terms of medical transport, allowing seniors to visit nearby post offices and offices alike  
Donate once or regularly:

Or you can make a direct bank transfer "For Missis Wladyslawa and Seniors":
Bank details:
mBank S.A.
Skrytka pocztowa 2108
90-959 Łódź 2
BIC/SWIFT: BREXPLPWMBK
SORT CODE: 11402004
Account number depending on currency:
PLN: PL35 1140 2004 0000 3002 7709 9827
USD: PL39 1140 2004 0000 3612 1128 1047
GBP: PL92 1140 2004 0000 3812 1128 1062
Euro: PL63 1140 2004 0000 3112 1128 1054
Before making the donation, please familiarize yourself with our terms.
The Foundation is in possession of proper documentation and has verified the needs of the Charges.
24-06-2022 - Today, the photos show our support kit given to Mrs.Wladyslawa in June.
31-05-2022 - Dietary supplements, sweets, and medical products were provided to Mrs.Wladyslawa in May.
04-05-2022 - Today's photos show goods provided to Mrs.Wladyslawa in April. They also grant you the possibility of admiring smiling Mrs. Wladyslawa herself:)
07-04-2022 - Hygiene-related items, medications, and some sweets. Those are the items we gave to Mrs. Wladyslawa in March :)
31-03-2022 - We received a package for Mrs. Wladyslawa from the Hitachi Vantara company operating in Cracow. The package included foodstuffs and textile goods, such as towels, bed linen, and tablecloths. We can ensure you that all of them have already been provided to Mrs. Wladyslawa :)


28-02-2022 - In February, Mrs. Wladyslawa also received a little something from us  :)
31-01-2022 - We are very pleased to see Mrs. Wladyslawa smiling and in good shape. In January, she also received purchases from us :)
18-01-2022 - In December, Mrs. Wladyslawa received a blanket and her favorite food products from us.
16-12-2021 - Today, in the pictures, the purchases for Mrs. Władyslawa were handed over in November :)
12-11-2021 - Today, the photos show Mrs. Wladyslawa and the goods handed over to her in October :) 
20-10-2021 - In September, we handed over to groceries and a few clothes Mrs. Wladyslawa.
06-09-2021 - In August, Mrs. Wladyslawa received monthly support from us. As always, it mainly had the form of foodstuffs and clothing items.

03-08-2021 - Yesterday, we showed you foodstuff-related purchases for Mrs.Wladyslawa. Today, we would like to show you our Charge herself, as well as showcase some clothes we provided her with in July.  
02-08-2021 - July is over, so it is the time to sum up the purchases for Mrs.Wladyslawa. The photos attached today predominantly show foodstuffs handed over to our Charge in July.
05-07-2021 - We are very happy to share with you some new photos provided to us by Magda, a volunteer, in which you can see that our Charge, Mrs. Wladyslawa takes advantage of fresh air when weather conditions allow her to spend her free time in such a way. In addition to the evidence of the ways of spending free time by Mrs. Wladyslawa we would also like to show you pictures incorporating a summary of purchases for the Senior in question for June.
31-05-2021 - As you can see in the photo, you can already visit the residents of the nursing home where Wladyslawa is staying. You have to admit that the Senior in question looks really good. In May, through Magda, we handed over two packages with key goods to her. As always, they included our Charge favorite foodstuffs and a few clothes :).
04-05-2021 - Just as every month, we would like to show you photos of purchases for Mrs. Wladyslawa made the previous month. Our Charge is in the nursing home and her needs are meet there, but we know all too well that every person has his or her favorite products they simply cannot do without :). Mrs. Wladyslawa asked for a cake for the workers of the nursing home she has been staying in to thank them for their support :).
09-04-2021 - For the second time, we have managed to provide help to Mr. Andrew from Bytom. This time, the package given to him has included a laptop :).
02-04-2021 - The pictures show a summary of the March help for Mrs.Wladyslawa.
09-03-2021 - Today, we would like to show you the summary of purchases made for Wladyslawa in February. In the past month, she also needed some clothing items.
29-01-2021 - Unfortunately, we cannot do much for Mr.Wladyslawa, but we do our best to support her. We take a regular care of Wladyslawa in terms of providing her with groceries.
08-01-2021 - As part of extending the collection of Mrs. Wladyslawa with other lovely Seniors, today we present the package given to Mr. Andrew from Bytom. :)
05-01-2021 - Mrs. Wladyslawa has been staying in the nursing home for over a month. For us, it does not translate into ceasing any help provided to her. On the contrary, we have decided extend our help to cover her new fellow residents as well.
Before Christmas, we visited her. Obviously, we did not forget about gifts :).
30-12-2020 - Through Magda - a volunteer who looks after Mrs. Wladyslawa, we handed over another small package to Mrs. Wladyslawa before Christmas :).
22-12-2020 - Today we delivered a package consisting of jiuces and wet wipes to the DPS where Mrs Wladyslawa is staying. There was also something extra for our Charge, a package from Mrs. Ewa :)
12-12-2020 - Our Charge Mrs. Wladyslawa, is under the 24-hour care of the Nursing Home, but we do not forget about her. The photos show the purchases made for the foundation and provided to Mrs. Władza, by Mrs. Magda a volunteer.
03-12-2020 - Before going to the Nursing Home, Mrs. Wladyslawa received several things from us that she deemed necessary. Those included some food items and some clothes.
16-11-2020 - Next Thursday Mrs. Wladyslawa will become a resident of a Nursing Home. She will receive the necessary 24-hour care there. Due to the fact that the fridge that has been recently handed over by us to  Mrs.Wladyslawa will no longer be needed in her house, the discussed piece of equipment will be delivered to her new place of stay. Today, we would like to show you photos of foodstuff and medicine purchases for Mrs. Wladyslawa made within the last three weeks.
28-10-2020 - Mrs. Wladyslawa, as a lying person, now needs even more care than before. That is why we do not forget about her, thanks to Magda - a volunteer, we can provide Mrs Wladyslawa, necessary purchases.
12-10-2020 - Dear! Unfortunately, the health of Mrs. Wladyslawa has deteriorated significantly :(.When there is a place,  our Dear Senior will become a resident of the Nursing Home. In connection with this situation, our action plan for Mrs. Wladyslawa must change. The plan related to any renovation of Mrs. Wladyslawa's apartment, There is no longer any reason to exist. We have managed to buy a new refrigerator in terms of changes in her apartment. Now, we will spend the funds collected for Mrs. Wladyslawa on the purchase of hygiene products, medicines, food and any new needs that will arise during Mrs Wladyslawa stay in Nursing Home. We wish Mrs. Wladyslawa a lot of health and strength!
08-10-2020 - Today is the last photo of September shopping for Mrs. Władysława. :)
01-10-2020 - Today is the first day of the new month, so it's a good time to sum up the last one. Therefore, we present photos of another purchases from September for Mrs. Wladyslawa :)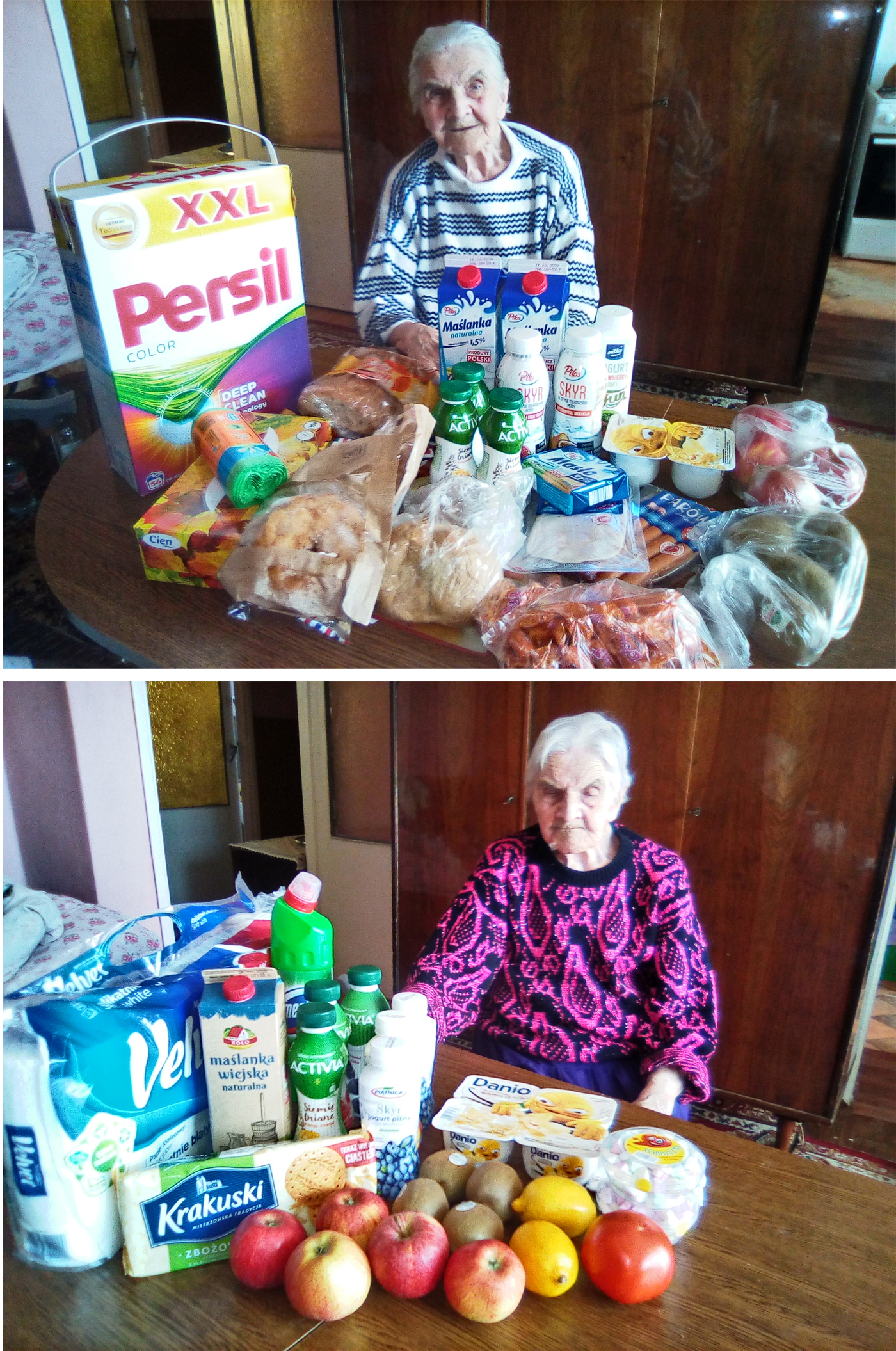 21-09-2020 - We handed over to Mrs. Wladyslawa groceries and small purchases from the pharmacy.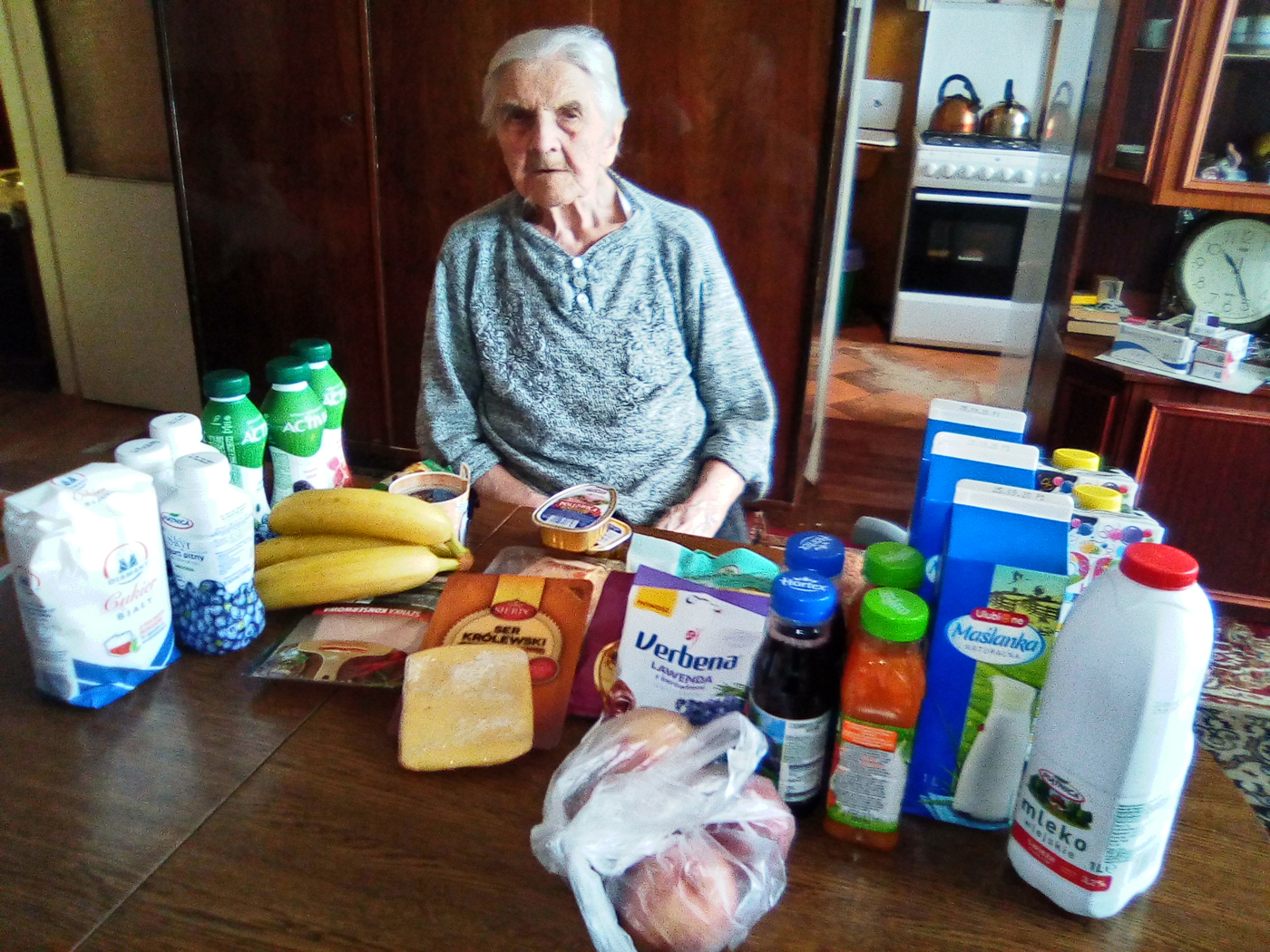 21-08-2020 - We have provided Missis Wladyslawa with a new fridge-freezer. We have also paid for: delivery and connection of the new device, as well as the removal of the old one from the house of our Charge.:)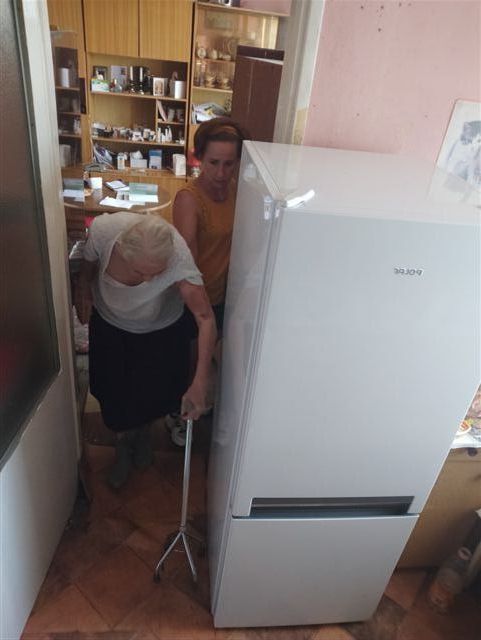 02-07-2020 - Missis Wladyslawa is truly charming :) It can be easily seen that she is extremely grateful for the received food, clothes, and hygienic products :).
27-04-2020 - We have provided Miss Wladyslawa with a piece of equipment allowing her to monitor her health condition on everyday basis, namely - a sphygmomanometer.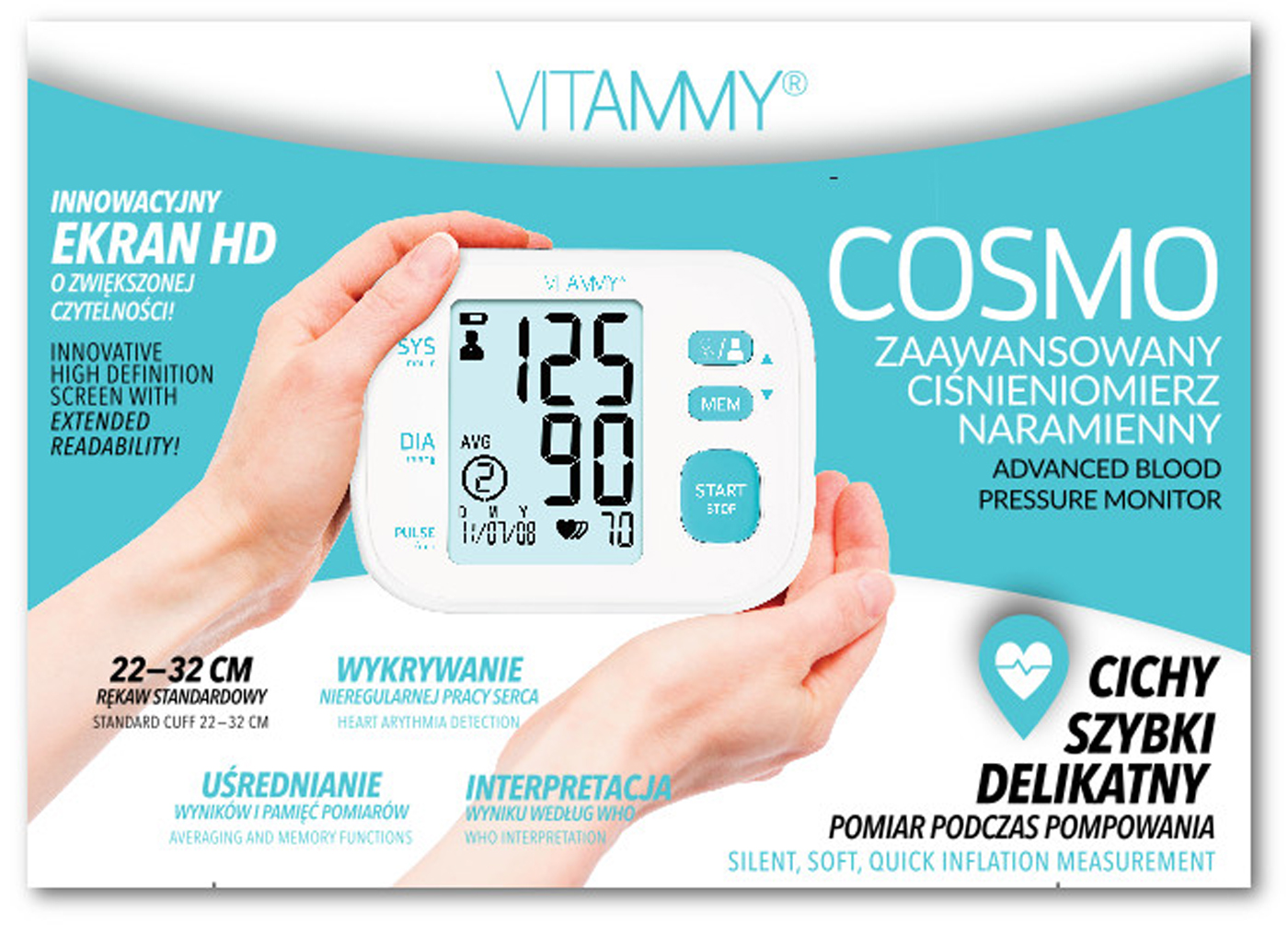 10-04-2020 - To all you lovely people – you are really great! Thanks to you, we were able to reach Missis Wladyslawa with a new batch of useful items. We did that just before the Easter. Missis Wladyslawa did not need to leave the house and all she had wanted was delivered to her directly. The delivery was realized by a representative of the foundation wearing protective gloves and a mask. We would like to wish all the best to all of you! Take care of yourselves!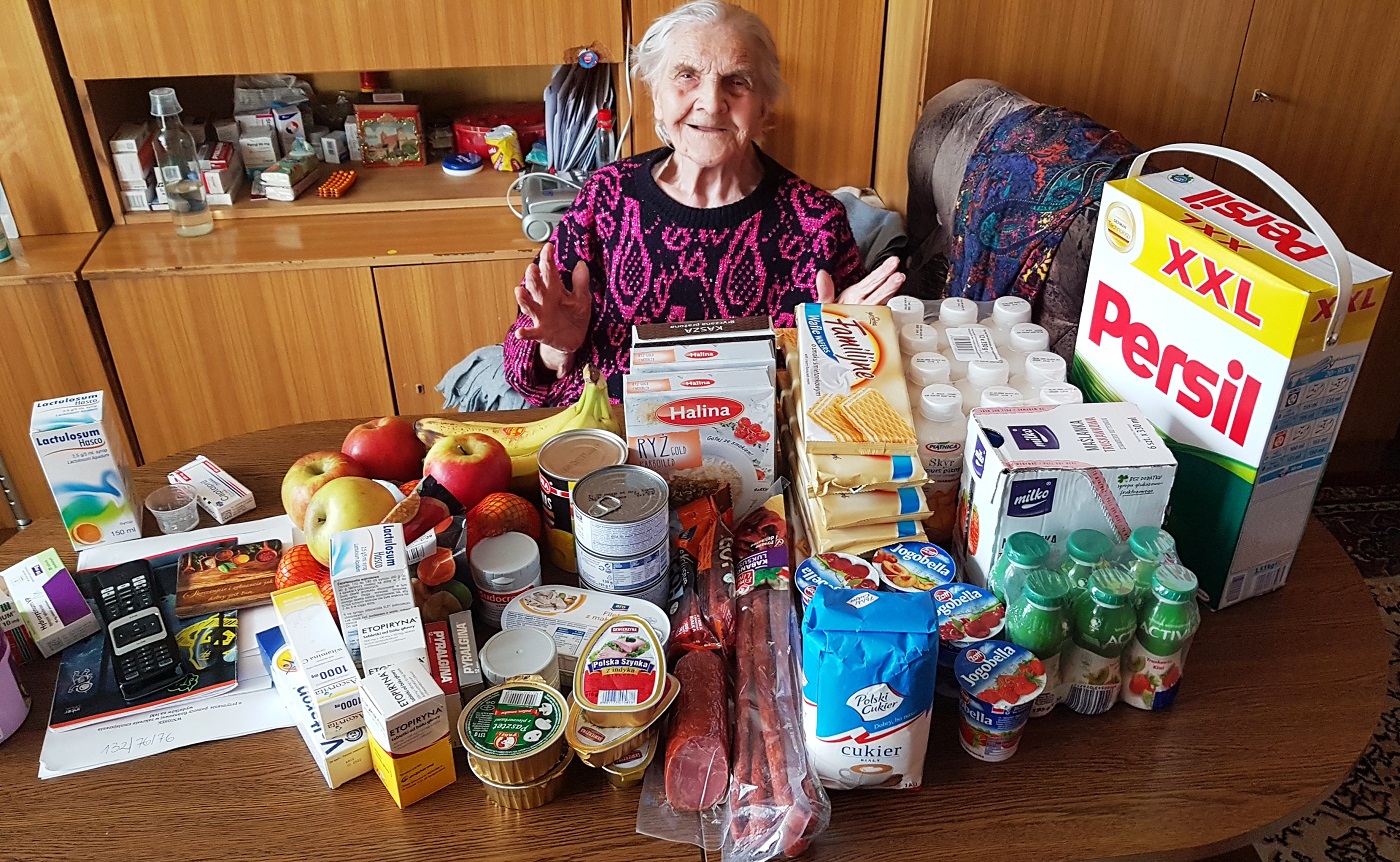 29-11-2019 - We have provided Miss Wladyslawa with food supplies which is her welcome gift for joining the group of our Charges. :)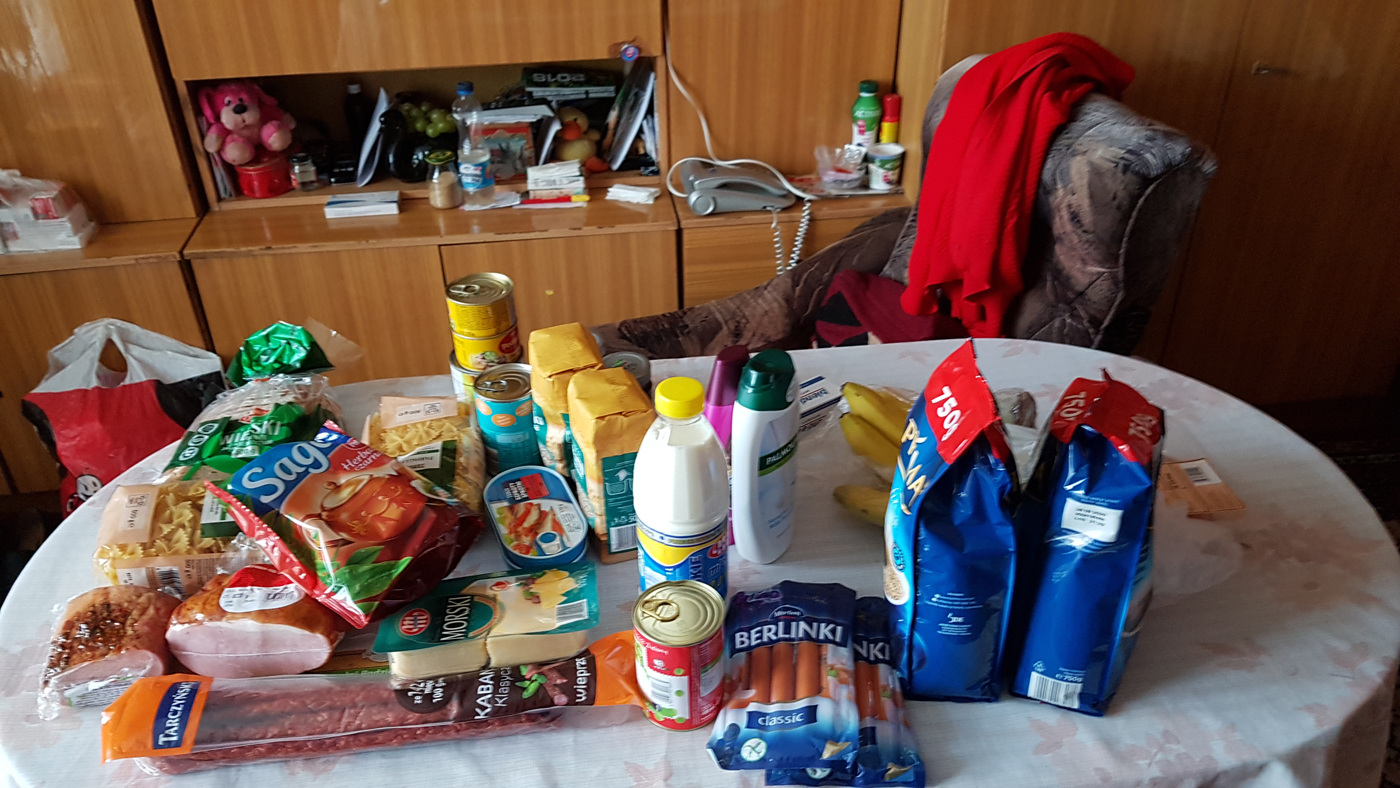 Seniors have been close to us since today :). Before we combined the collection of Mrs.Wladyslawa and the Seniors, we managed to make a few small gestures :) 
21-09-2020 - Another food package from our foundation was handed over to Mrs. Anna from Warsaw :)
17-08-2020 - After receiving a message asking for help from Mrs. Anna from Warsaw, last week we sent a small package with food and chemicals. We wish all the best :)
01-03-2019 - I met this wonderful lady next to the block of flats I live in. She asked me to take her to the nearby bus stop, as it was quite a distance for her, because she was walking using crutches. I asked her about the destination and taken her directly to the city center. It was the most pleasantly spent 15 minutes of my life in months :)
Photos from the first visit to Mrs. Wladyslawa: