Angelika

Please familiarize yourself with the entire description provided below.Angelika is currently 29 and she has been struggling with numerous illnesses and their outcomes. Initial health concerns started in 2013. It all began with worrying leg pains and leg swelling. After almost 2 weeks in hospital, a diagnosis was formulated: Henoch-Schönlein purpura, which is also known as allergic purpura. It is an autoimmune disease, in the case of which inflammations of small blood vessels can be identified. In 2018, yet another life-changing disease developed in Angelika's body. It was antiphospholipid syndrome, which is also referred to by professionals as APS. Said syndrome has numerous symptoms that were also identified in the case of Angelika, namely: migraines, nephritis, and below-average laboratory test results e.g. vitamin D3 deficiency. In July 2021, another diagnosis was formulated, namely: the nutcracker syndrome. It is an anatomical defect, a congenital vascular anomaly. It is difficult to diagnose and gives ambiguous symptoms. In the case of Angelica, it is primarily characterized by leg pains, issues with the proper functioning of the kidneys, general bad mood, and disturbing morphology results. 
The lady in question has also been dealing with serious eyesight-related problems – the degeneration of macula lutea may cause serious problems in the future. Other ailments include: coagulation disorders, microcytic anemia, Rathke's pocket cyst, duodenitis. The combination of APS and allergic purpura causes serious pains in Angelika's legs, which in turn makes it very difficult for her to move on her own. Since February 2021, Angelika has had a certificate of moderate disability. The certificate in question is valid for two years, until February 2023.
Aside from that, our charge has been also suffering from proteinuria, rhinitis, pharyngitis, also laryngitis and Helicobacter pylori infectionand mild erythematous gastropathy. Furthermore, she has also had some problems with hypertension and recurring depressive syndrome. Angelika would love to become a mother one day. She believes that her dream will come true. While waiting for such a day to come, she satisfies her need for taking care of a baby by means of dolls that are called reborns.
Angelika is capable of taking care of herself thanks to a modest allowance amounting to PLN 780 per month, as well as thanks to her part-time job as a babysitter. She loves her job, but she cannot focus on it in a full-time manner due to her illnesses and constantly changing health condition. She lives in a rented flat, the rent for which, including additional bills, is equal to PLN 1100 per month.
Despite her illnesses, Angelika is full of positive energy and will of life. She is determined not to give up and we want to support her in her struggle. Thank you very much for your support and even the most miniscule gesture. We know that you are far from being indifferent. It is a great motivation to march on, both for us and for the charges of the Foundation. We would like to wholeheartedly encourage you to take part in the fundraiser organized for Angelika. Thank you in advance!
Needs we collect funds for:  
Purchasing widely-available medications and those prescription-based ones. 
Purchasing foodstuffs, household detergents, washing agents, and cosmetics.
Buying clothes and shoes for Angelika.
Providing support in paying bills/rent. 
Household appliances replacement: shower,

toilet, electric cooker with oven

, electric kettle, clothes dryer,

pots

, knives, steamer, food processor.
Minor renovation repairs in the apartment
Help in paying for a rehabilitation camp needed due to a chronic disease of the locomotor system.  
Washing machine.
Dish washer.

Buying a mobile phone.

- Provided.

Making it possible for Angelika to move on her own. We want to purchase her a scooter/micro scooter

.- Purchased electric scooter.

Non-contact infrared thermometer.

- Provided.

Inhaler + nebulizer for cleaning the nose and sinuses. 

Provided.

Buying a sphygmomanometer.

- Provided.
Purchasing an air humidifier with moisturizer.  
Or you can make a direct bank transfer "For Angelika":
Bank details:
mBank S.A.
Skrytka pocztowa 2108
90-959 Łódź 2
BIC/SWIFT: BREXPLPWMBK
SORT CODE: 11402004
Account number depending on currency:
PLN: PL35 1140 2004 0000 3002 7709 9827
USD: PL39 1140 2004 0000 3612 1128 1047
GBP: PL92 1140 2004 0000 3812 1128 1062
Euro: PL63 1140 2004 0000 3112 1128 1054
Before making the donation, please familiarize yourself with our terms.
The Foundation is in possession of proper documentation and has verified the needs of the Charge. 
08-04-2022 - We have provided Angelica with the following health condition monitoring devices: a non-contact thermometer and an upper arm blood pressure monitor.
27-01-2022 - From November last year to January this year, Angelika has been receiving support from us in the form of foodstuffs.
28-08-2021 - Once again, we came to the rescue and settled the rent due for Angelica.
26-07-2021 - We have given Angelika a new mobile phone. Her previous one barely functioned and had to be replaced. We keep our fingers crossed for the health of our Charge, because after the stay in the hospital in June, there were two more. Said stays resulted a new diagnosis for Angelika and subsequent referrals for diagnosis and treatment.
23-06-2021 - In mid-June, Angelika was in a hospital for several hours for diagnostic tests. Medical transportation experts took her there because she was unable to get to the facility by herself due to severe pain and swelling in her leg. The inflammation of the leg caused fever. The aim of the examination was to confirm whether said condition was caused by thrombosis.
13-05-2021 - Angelika has not been working for many months due to her health condition. Unfortunately, as a result of the lack of regular income, she cannot cover apartment-related fees. That is why we have decided to come to the rescue and pay her due rent.
21-04-2021 - Angelika is still in the hospital, mainly for diagnosis, but also because of the worsening purpura symptoms. We keep our fingers crossed for her and we hope that she will recover quickly.
16-04-2021 - Starting from Wednesday 14.04.2021, Angelika has been is in the hospital on a rheumatology ward. In line with her request, we would like to thank you for the help provided so far: "In this difficult time, such support means a lot to me. Thank you all so much." We would also like to show you photos of foodstuffs and chemical products provided to Angelika quite recently.
30-03-2021 - We recently handed over two parcels of clothes to Angelika. We have been given them by two donators, who are both called Anna :)
01-02-2021 - Inhaler and nebulizer allowing for cleaning the nose and sinuses - those our purchases for Angelica from last week. :)
25-01-2021 - We support Angelika in undertaking everyday expenses, such as grocery shopping and paying rent for the apartment for two months (November and December 2020).The Foundation incurred part of the costs. In the pictures, groceries donated by the Foundation can be seen.
10-11-2020 - Some time ago we gave Angelika a stove with a ceramic hob. Now the time has come for appropriate pots, also chosen by our Charge:).
13-10-2020 - We helped Angelika pay her rent bill.
12-10-2020 - Recently, we have supported Angelika with groceries and chemical products, as well as the purchase of the necessary replacement parts for the scooter.
15-09-2020 - We support Angelika not only in caring for her health. We also make sure that it lives in good conditions. Below are photos of the following: an electric cooker with an oven, a toilet bowl and a locator that protects the scooter. We would like to convey the words of thanks from Angelika: "THANKS !! I would like to express my deepest gratitude for another kind gesture and beautiful support. Thank you ... for your kindness and willingness to help!" You are strong, you are wonderful. "
07-09-2020 - We helped Angelika with the purchase of medications.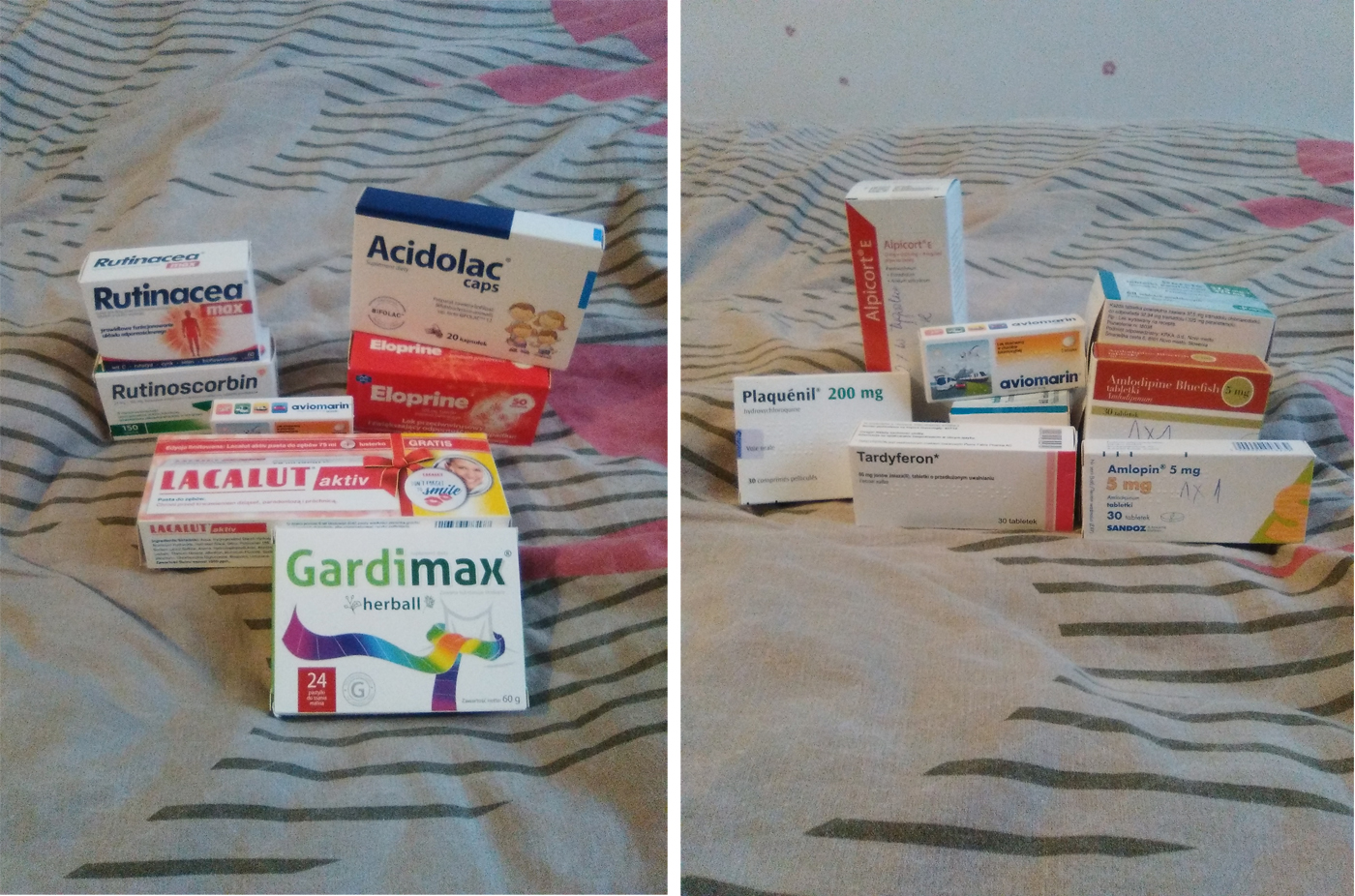 20-08-2020 - Due to her illnesses, Angelika has remarkable difficulties with moving on their own and that is why we have decided to address said issue as a priority. On the photos, you can see our charge together with her new, dream-like mode of transportation she has chosen herself :). It is great that we have been able to help. Below, there are honest words of gratitude expressed by Angelika and addressed to her Dontators: "Remember that it always has to be difficult to then be beautiful. Thanks to you, impossible is nothing. Thank you very much for that."