Adam and his dogs

Please familiarize yourself with the entire description provided below.
Adam is 53. He is a husband, a father, and a grandfather needed so much by his beloved ones. He is also a person who has come to terms with his fate and was humble in the face of tragedy he had to face.
When his 27-year-old daughter, Ewa, died after a year and a half of heroic battle with malignant stomach cancer, his world broke into pieces, but did not end. Ewa was the mother of two boys, who are now taken care of by the father. Mister Adam and his wife have tried their best to support their grandchildren. They help them in all walks of life and devote a remarkable amount of their time and energy to be with the kids. However, after such a loss, it is difficult to go back to a normal life. Adam often says that he is not the same person he used to be. The premature death that should not happen and the suffering of his daughter took their toll on the health and mentality of heartbroken parents. The situation caused  Adam to ask for support in the form he had always wanted to avoid – by begging on the street.


Donate once or regularly:

Nowadays, the life of Adam is the struggle to maintain a satisfactory health condition and to provide both himself and his beloved ones with basic items of everyday use. Diabetes Adam has been suffering from requires him to constantly take proper medications and be supervised by a medical professional. Currently, he has the access to pharmaceuticals he needs…but for how long?  Adam does not know that, because he cannot say whether or not he will be able to gather money for further treatment. Our protégé has recently underwent a tumor removal surgery, the remnants of which are stitches still present on his head. What is more, Adam's wife also had to undergo a surgery. Even though she is still recovering, they both do their best to take care of their grandchildren. Similarly to many people his age, Adam suffers from a vision defect that does not make everyday functioning any easier.
Despite the difficult situation, Adam has created a safe haven for two dogs that accompany him on everyday basis. They are always well maintained and truly loved. Our protégé has been caring about them to a greater extent than he has been caring about himself, which is proved by their exceptional condition. Said man is capable of giving the last bite of food to his pets and purchasing some more fodder for them before buying something new for himself. He still wears old shoes and a jacket that is too small for him.
A grandfather taking care of eight grandchildren, a husband, and a caretaker – he needs some support. He says that he does not expect much from life and he would love to get his daughter back. Even though it is impossible to regain life that was lost, it is still manageable to make his life much more bearable. The required support for Adam mainly includes warm clothing, new shoes, some food, and medications – those are the absolute basics that will make his everyday life much easier and more comfortable. Not much is needed to help a person who supports his beloved ones every single day.
We hope that thanks to your help, it will be possible to make the existence of  Adam a much more enjoyable one. A bit of support will make it possible for our protégé to take care of what should never be missing – food, clothes, and medications. Each and every good deed will be something of immense importance for a person who has suffered so much pain in life. While working together, it is much easier to improve the fate of the protégés of our foundation, which has not been easy in the majority of cases.
We do not ask you for nothing that is impossible or difficult to reach. We ask for a better future that is within our reach – we would like to encourage you to support Adam in his struggle with everyday life. Let us help him, as not much is needed to improve the overall quality of his existence!
Such people deserve to be listened to and helped. We want to support them. We are determined to purchase clothing items, food for pets, as well as ensure satisfactory conditions for both the family and the animals. If you think that the described person is worth sharing some good with, do not hesitate and join our action.
Needs we collect funds for:  
Food for the pets.
Expenses for medical care for Adam and his family.
Buying widely-accessible medications and those prescription-only ones.
Food for Adam and his family.
Providing support with regard to erecting a monument being a part of the grave of Adam's daughter.
Clothing and shoes for Adam and his wife. Adam: winter and summer shoes, size 43, XL winter jacket, trousers, size 96, XL t-shirts and shirts. Adam's wife: winter and summer shoes, size 40.
Donate once or regularly:

Or you can make a direct bank transfer "For Adam":
Bank details:
mBank S.A.
Skrytka pocztowa 2108
90-959 Łódź 2
BIC/SWIFT: BREXPLPWMBK
SORT CODE: 11402004
Account number depending on currency:
PLN: PL35 1140 2004 0000 3002 7709 9827
USD: PL39 1140 2004 0000 3612 1128 1047
GBP: PL92 1140 2004 0000 3812 1128 1062
Euro: PL63 1140 2004 0000 3112 1128 1054
Before making the donation, please familiarize yourself with our terms.
The Foundation is in possession of proper documentation and has verified the needs of the Charge.
If you want to support this Charge directly, please consider providing him with a voucher (gift card) allowing him or her to purchase the most required things on his own.
22-02-2022 - A day before leaving for Romania, Adam with his son and wife visited our office. We helped them make grocery shopping. They took the purchased items with them to Romania.
16-12-2021 - Our office was visited twice by the lovely girls from the photo. They brought lots of gifts for Adam. We know from them, that they did not complete the packages themselves, so We would like to thank everyone who decided to give something to Adam. 
22-10-2021 - The day before Adam left for Romania, we managed to meet him to give him shoes and gloves.
13-05-2021 - Adam has been staying in Romania - his country of origin - for many months. He went there to visit his family and the pandemic forced him to stay there for longer. Despite the distance, we have decided to support him in terms of grocery shopping. What is more, our Charge has showed us photos of his dog family that has recently become bigger!
30-04-2020 - We have provided Adam and his family with food.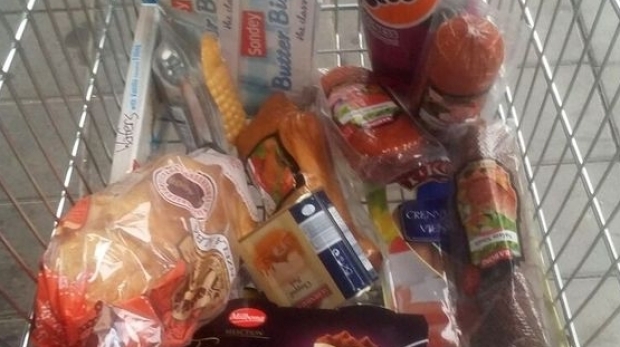 05-11-2019 - Adam got a pair of new glasses and some medication.