Mr. John with his son Christopher

Please read the entire description carefully. We are very sad to announce the death of Mrs. Apolonia. In this very difficult time, we will continue to support Mr. John. Initially, Mrs. Apolonia and Mr. John were covered by the support of our foundation. While helping our Charges, we were also supporting Christopher. The needs to be satisfied have not changed. First of all, there is the need to help the individuals in question with the costs of everyday life and basic expenses. Their living conditions also leave a lot to be desired. Mr. John, 73, lives in the countryside in the Lubelskie Province. As of currently, he lives only with his 47-year-old son, Christopher. Until 9th February 2022, Mrs. Apolonia lived with them. Mr.John has been struggling with chronic obstructive pulmonary disease (COPD), chronic kidney disease, anemia, and hypertension. His medical history also includes a psycho-organic syndrome and a stay in a psychiatric hospital due to behavioral disorders. The discussed family lives in rather modest conditions - it is definitely not enough for them to develop and grow as a societal unit.
Donate once or regularly: 
The individuals in question live in an old wooden house without the access to running water. They use water from a nearby well by using a hose. They have no money for medications, covering bills, or purchasing cleaning products. Christopher the son of Mr. John and Mrs. Apolonia, has serious health problems as well and has been issued a certificate of disability. He would like to be a financial support for his dad, but he is struggling with the consequences of a ruptured cerebral hemangioma - he suffers from memory problems, epilepsy, as well as - the inability to work. Before the health problems occurring, he worked and earned money in Germany in order to build a new house. Nevertheless, the condition discussed above thwarted his plans. He is often visited by a teenage son who helps his dad and grandpa as much as he can. In the summer, he mows the grass and in the winter - he takes care of the stove. He is happy to keep his relatives company.
Mr. John is surrounded by remarkably helpful people. His neighbor, Maria, who is a nurse, helps in terms of purchasing medications. She also took care of insulin injections for Mrs. Apolonia. There is also Eva, a good soul who lives in a nearby town. Several times a week, she does some shopping and cleans up the house. Despite the great commitment and work performed by the discussed two women, the family lacks almost everything.
Photo from visit of the representatives of the Foundation's to Apolonia and John in June 2021 :)


Needs we collect funds for:
Purchase of generally available medicines, as well as prescription-based ones. - We meet this needs on an ongoing basis.
Medical care for Mr. John - We meet this needs on an ongoing basis.
Support in the purchase of equipment needed for health condition control:

thermometer

and upper arm blood pressure monitor.
Purchase of food, including long-term foodstuffs. - We meet this needs on an ongoing basis.
Providing support in terms of supplying Jan with clothes and shoes. Mr. John's clothing and shoe sizes: XXL / XXXL, shoe size: 41-42 - We meet this needs on an ongoing basis.
Cleaning products and cosmetics for everyday use. They are also needed in the event of a hospital stay, including care products for bedridden people. - We meet this needs on an ongoing basis.
Support in paying the bills for Mr.John. - We meet this needs on an ongoing basis.
Help in purchasing firewood. - We meet this needs on an ongoing basis.
Equipping the house of Mr. Jhon with warm bedding, blankets, and towels. - We meet this needs on an ongoing basis.

A set of new pots - sizes adjusted to the typical needs of Apolonia and John.

- Provided.

Electric kettle

. - Our Charges managed to obtain the kettle on their own.
Support in refreshing the walls of the house - purchasing paint.

A simple mobile phone for Mr.John

. - Provided.

Gas stove with an electric oven.

- Provided.

Double sofa bed.

- Provided.
Donate once or regularly: 
Or you can make a direct bank transfer "For Mr. John"
Bank details:
mBank S.A.
Skrytka pocztowa 2108
90-959 Łódź 2
BIC/SWIFT: BREXPLPWMBK
SORT CODE: 11402004
Account number depending on currency:
PLN: PL35 1140 2004 0000 3002 7709 9827
USD: PL39 1140 2004 0000 3612 1128 1047
GBP: PL92 1140 2004 0000 3812 1128 1062
Euro: PL63 1140 2004 0000 3112 1128 1054
Before making the donation, please familiarize yourself with our terms.
The Foundation is in possession of proper documentation and has verified the needs of the Charges.
27-06-2022 - Today, the photo shows the medications that we just gave to Mr. Jhon.
20-05-2022 - Mister John has recently received medications and a gas cylinder from us.
26-04-2022 - We have provided Mr. John with more foodstuffs bought at a butcher's shop and a supermarket, as well as with blood sugar measuring strips.
05-04-2022 - We have provided Mister John with medications that our Charge has to take on a permanent basis.
12-03-2022 - It is a very sad and difficult time for our Charge Mr. John. We hope that such small gestures as foodstuffs or medications provided by us will improve his well-being at least slightly.
22-02-2022 - We have provided Mr.John with a new fold-out sofa with a sleeping function and two sets of bed linen: duvets and pillows, along with pillowcases and sheets.
28-01-2022 - Due to Mrs. Apolonia's stay in the hospital, there was the need to provide our Charge with new nightgowns, a towel, and hygienic products.
27-01-2022 - Thermometer, vitamins and medicines are our most recent aid for Mrs. Apolonia and Mr.John.
22-12-2021 - Our Donor, COMPLAST L.L.C. handed over a food parcel to Apolonia and Jan! Our Protégés are very grateful for the help of all the donors. We would also like thank the COMPLAST L.L.C. company, as well as all the individuals and companies supporting Mrs.Apolonia and Mr. John.
21-12-2021 -  Mrs. Apolonia and Mr. John received pre-Christmas foodstuffs from us. Apolonia also received strips allowing for measuring blood sugar.
20-12-2021 - We have provided Mrs. Apolonia and John with a set of new pots with a frying pan. The pre-Christmas period is perfect for such purchases :).
15-12-2021 - We helped Mr. John purchase key medications.
12-11-2021 - We have settled the electricity bill and covered the cost of purchasing a gas cylinder.
19-10-2021 - We donated another batch of medications to Mr. John.
13-09-2021 - We have handed over the package we received from our Donor, Mr. Wojciech. Thank you very much for it. It contained many useful things which have made Mrs. Apolonia very happy. We have also donated another batch of medications to Mr.John.
10-09-2021 - We are very happy that we have been able to meet such an important need of our Charges, namely - to provide them with 10 spatial meters of firewood. It is chopped up and ready for use :). Thank you very much for supporting said fundraiser.
03-09-2021 - We have handed over a large parcel of foodstuffs to Mrs. Apolonia and Mr.John  and a few products from the pharmacy for Mr.John.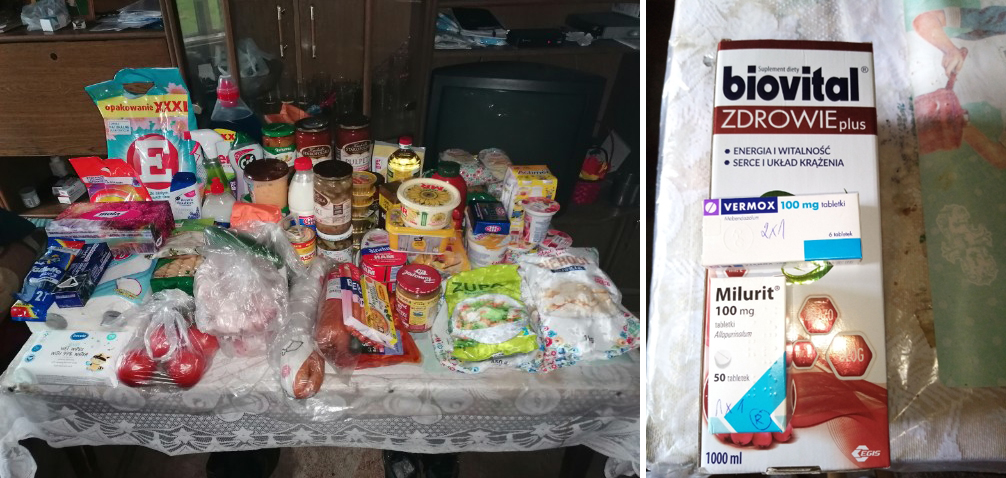 09-08-2021 - We have received a parcel full of shoes from Deichmann. New footwear-related items, after checking their sizes, were sent to Apolonia and John. We can gladly say that the items have reached them already :) In addition to the shoes, the package also contained a few used shirts for John. We are more than sure that all of them will be of use for our Charges. We would like to thank our Donors for said package! We have also provided our Charges with the necessary medications.
26-07-2021 - We have handed over a gas cooker with an electric oven to Mrs. Apolonia and Mr.John :).
23-07-2021 - We provided John with a functional mobile phone designed with Seniors in mind. This device has, among others, an SOS emergency button that allows to call or send a text message to a previously selected person with one click, as well as many other functions being vital for the elderly. :)
01-07-2021 - John stayed in the hospital last week. To say in the unit, he required a new pajamas, which we could give him thanks to Eva, a friend of John and Apolonia. We also donated medications to John.
18-06-2021 - During the visit at Apolonia and John's place at the beginning of June, we handed over a large parcel filled to the brim with foodstuffs to them. Admittedly, they live in a beautiful place, but their living conditions unfortunately leave much to be desired.
27-05-2021 - We have donated medications to John and covered the costs of his urologist appointment.
02-04-2021 - The first package for Mrs. Apolonia and Mr. John handed over :). Our month has started well :)