Missis Wladyslawa

Please familiarize yourself with the entire description provided below. Missis Wladyslawa is 88 and her story is heartbreaking. It was hard for us to hide the tears as we were so moved after hearing it for the first time. Missis Wladyslawa has experienced a lot of pain. In many cases, it has been pain caused on purpose by people from her closest surrounding. Fate itself has not been merciful for her either. On the second day of Christmas 2018, her fourth and last son died. One may immediately draw parallels with the "Saving Private Ryan" movie, telling the story of heroic attempts to save the very last of four brothers fighting in World War II battles. On the silver screen, protagonists manage to send him home, but the life of Missis Wladyslawa has been rather different and more brutal. She is now alone in the world. While asked about what she really wanted, she replied that she did not want to be alone during Christmas again.


Donate once or regularly:

Miss Wladyslawa has also told us that her relation with her mother was full of physical and mental abuse. As a child, small Władzia heard many curse words, insults, and slanders. She also experienced physical pain, as her head was hit against the wall. The mother did not allow Missis Wladyslawa to study – she completed only two years of primary school and can barely make a signature for herself. When she was 12, her mother left her and she had to take care of her father that was very ill at the time. For the initial years of her life, he did not even know what her name was, as she had been addressed in a vulgar manner.
Even with all that experiences behind her, she is still full of life, charisma, and inner magnetism. She has an exceptional inner strength – listening to her and looking at her is a pure pleasure. She is very humble and even with all the atrocities she has experienced, she is extremely modest. It is also exceptional that even with all the traumatic experiences from her childhood and extreme mistreatment, she still feels the need to be close to other people and she would give everything she has for that. Unfortunately, she has not got a lot. However, we are here to help her.
When she became a single mother of four children, she decided to create a different family than the one she had grown up in. She gave her children a lot of love, warmth, and support. Missis Wladyslawa was happy to have so many children, as she had been raised as a single child. Even though she had had a brother, he had died two weeks after being born. Now, she is completely alone. Two of her sons died of cancer and two other ones – on heart-related illnesses.  
Some time ago, Miss Wladyslawa fell down and broke her hip. She should undergo a surgery, but due to her poorly functioning heart, it may be too risky for her. Due to the broken hip, she has had severe problems with moving around. Unfortunately, she has been living in a building without a lift, on the fourth floor. She cannot go outside and she leaves the house only when she is taken to hospital by an ambulance. Her neighbors and caretakers have been doing shopping for her. She has had real problems with moving around the house, with the biggest problem being bathroom that is completely not adjusted to the needs of the woman and her health condition. We want to change that. We want to renovate the house of the charming lady and make her life much easier.  
The monthly income of Missis Wladyslawa is less than PLN 1500 of her pension. She has to use that money to pay bills, purchase food, and buy medications – even the rent alone is PLN 560 per month. After covering all that and buying medications, there is a small amount left to buy food.
Missis Wladyslawa frequently states that she is uneducated and cannot put thoughts into words. It is not true. She is a great person to listen to, as she always speaks from the heart and is a very good person. She is 88 now. Up until 80, she was a voluntary Caritas worker. The story of Missis Wladyslawa is very sad and should not be neglected. We hope we can count on you to support us in improving the conditions of the lovely elderly lady in question.


 Needs we collect funds for:  
Bathroom renovation

- Canceled due to the transfer of Mrs. Wladyslawa to the Nursing Home.
Buying widely-accessible medications and those prescription-only ones. - Needs of Miss Wladyslawa are covered in the up-to-date manner.
Buying food.- Needs of Mrs. Wladyslawa are covered in the up-to-date manner.
Purchase of hygiene products (liners, diaper pants)..- Needs of Missis Wladyslawa are covered in the up-to-date manner.

Replacement of fridge-freezer

- Realized.
Donate once or regularly:

Or you can make a direct bank transfer "For Missis Wladyslawa":
Bank details:
mBank S.A.
Skrytka pocztowa 2108
90-959 Łódź 2
BIC/SWIFT: BREXPLPWMBK
SORT CODE: 11402004
Account number depending on currency:
PLN: PL35 1140 2004 0000 3002 7709 9827
USD: PL39 1140 2004 0000 3612 1128 1047
GBP: PL92 1140 2004 0000 3812 1128 1062
Euro: PL63 1140 2004 0000 3112 1128 1054
Before making the donation, please familiarize yourself with our terms.
The Foundation is in possession of proper documentation and has verified the needs of the Charge.
28-10-2020 - Mrs.Wladyslawa, as a lying person, now needs even more care than before. That is why we do not forget about her, thanks to Magda - a volunteer, we can provide Mrs Wladyslawa, necessary purchases.
12-10-2020 - Dear! Unfortunately, the health of Mrs. Wladyslawa has deteriorated significantly :(.When there is a place,  our Dear Senior will become a resident of the Nursing Home. In connection with this situation, our action plan for Mrs. Wladyslawa must change. The plan related to any renovation of Mrs. Wladyslawa's apartment, There is no longer any reason to exist. We have managed to buy a new refrigerator in terms of changes in her apartment. Now, we will spend the funds collected for Mrs. Wladyslawa on the purchase of hygiene products, medicines, food and any new needs that will arise during Mrs Wladyslawa stay in Nursing Home. We wish Mrs. Wladyslawa a lot of health and strength!
08-10-2020 - Today is the last photo of September shopping for Mrs. Władysława. :)
01-10-2020 - Today is the first day of the new month, so it's a good time to sum up the last one. Therefore, we present photos of another purchases from September for Mrs. Wladyslawa :)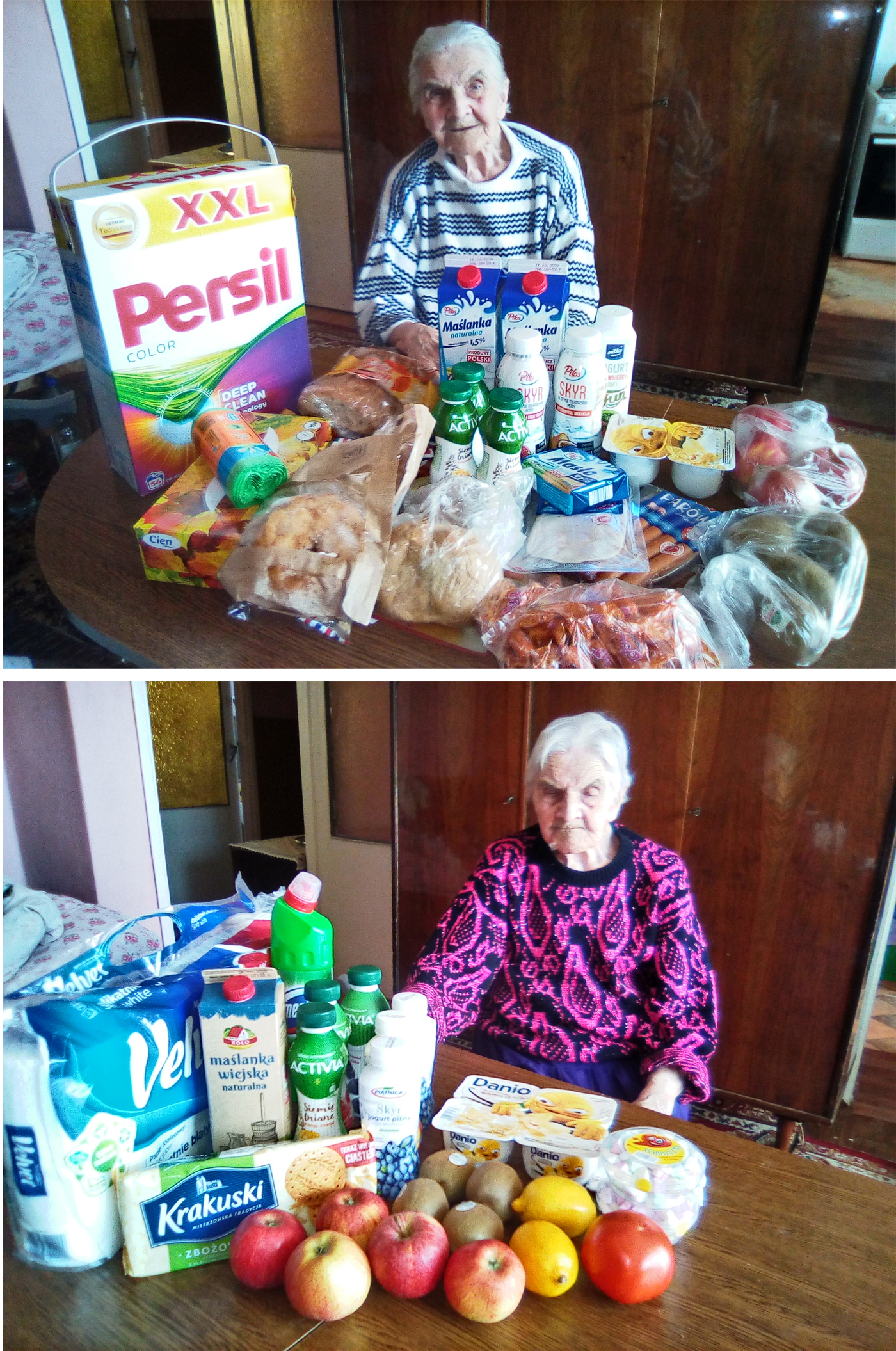 21-09-2020 - We handed over to Mrs. Wladyslawa groceries and small purchases from the pharmacy.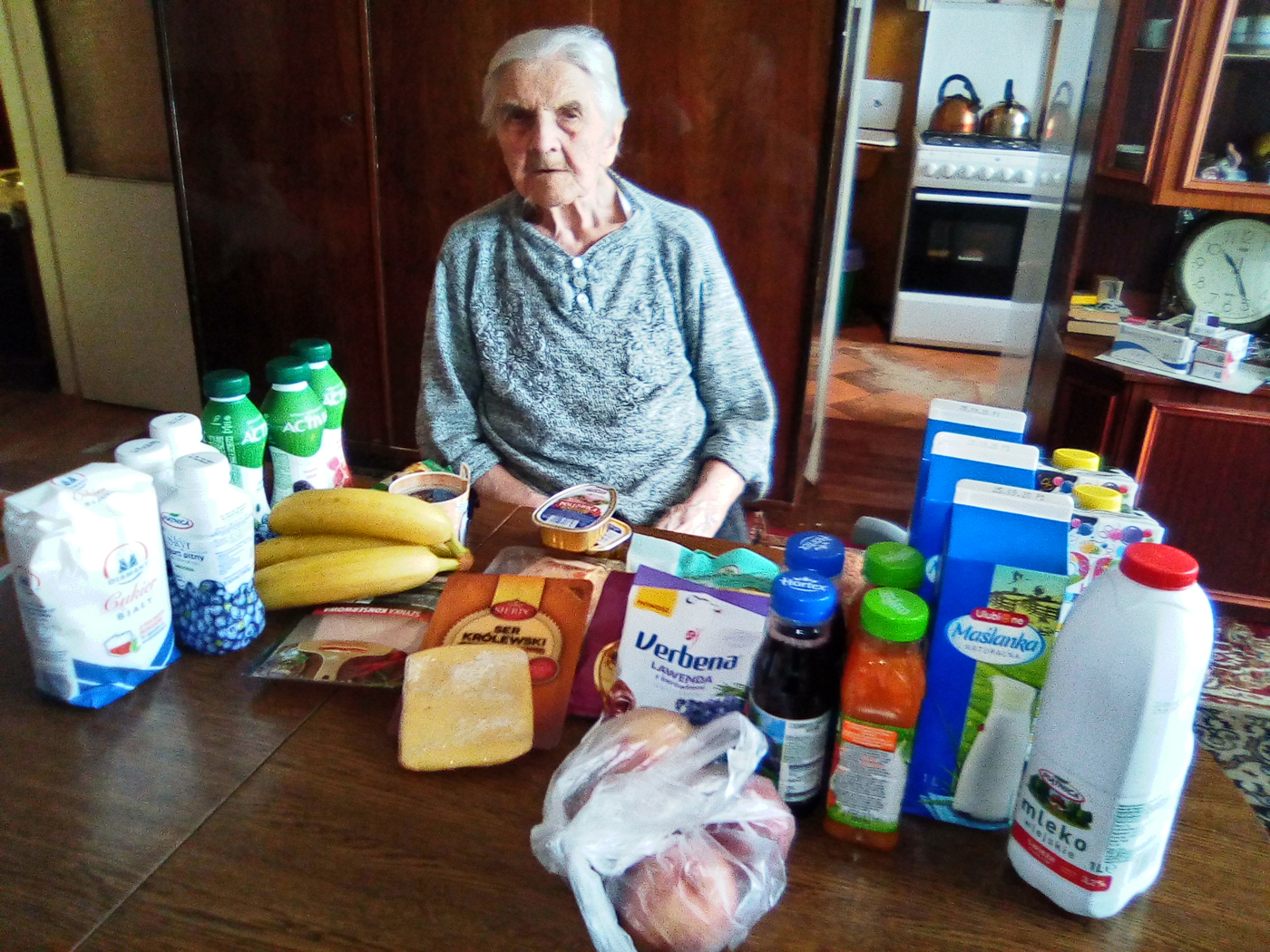 21-08-2020 - We have provided Missis Wladyslawa with a new fridge-freezer. We have also paid for: delivery and connection of the new device, as well as the removal of the old one from the house of our Charge.:)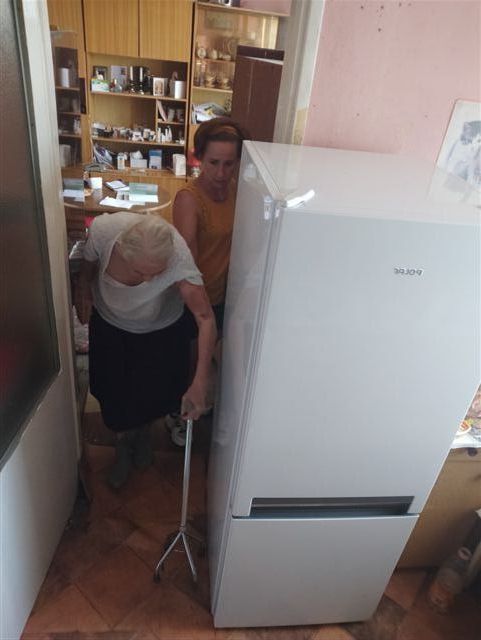 02-07-2020 - Missis Wladyslawa is truly charming :) It can be easily seen that she is extremely grateful for the received food, clothes, and hygienic products :).
27-04-2020 - We have provided Miss Wladyslawa with a piece of equipment allowing her to monitor her health condition on everyday basis, namely - a sphygmomanometer.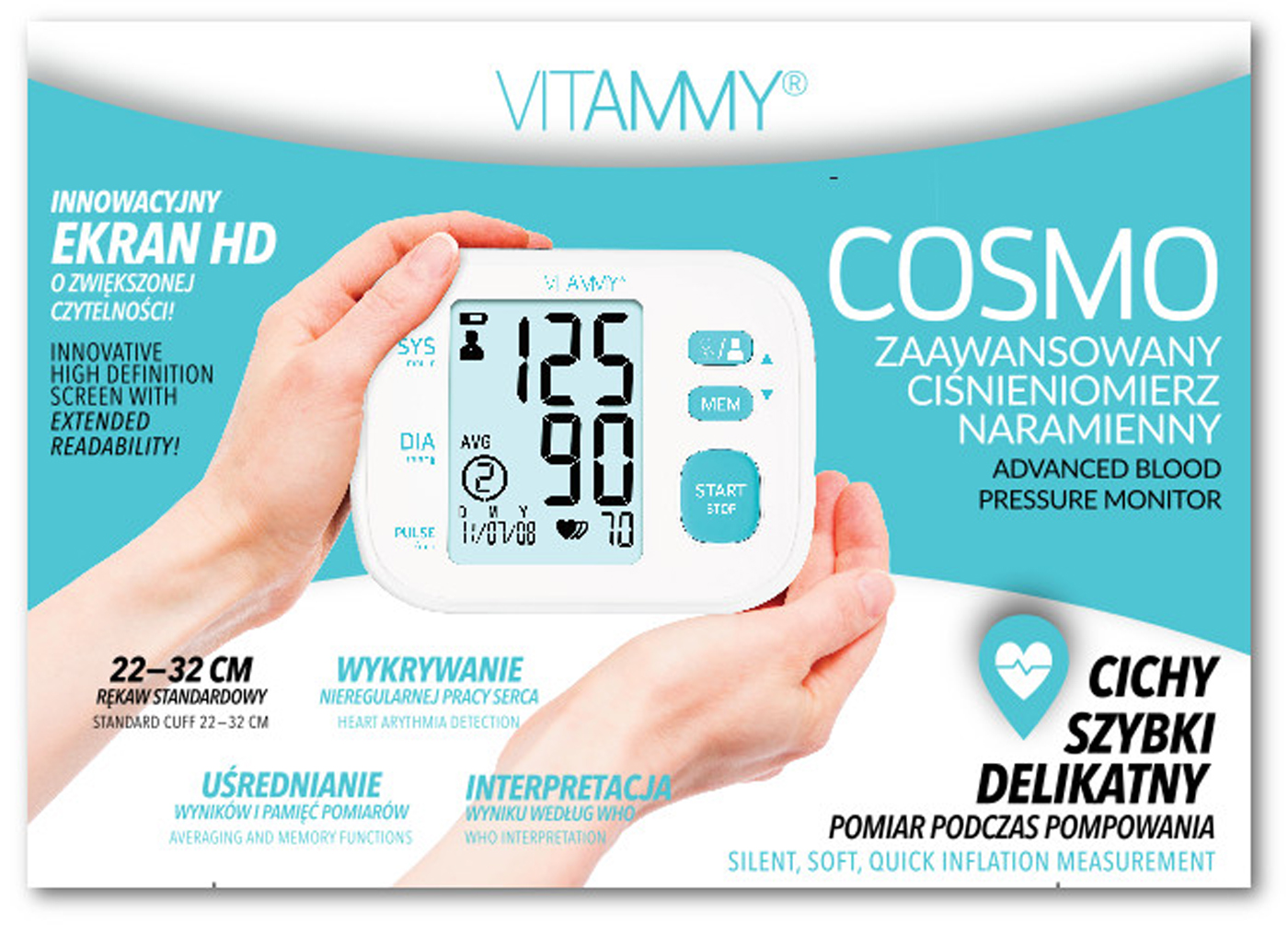 10-04-2020 - To all you lovely people – you are really great! Thanks to you, we were able to reach Missis Wladyslawa with a new batch of useful items. We did that just before the Easter. Missis Wladyslawa did not need to leave the house and all she had wanted was delivered to her directly. The delivery was realized by a representative of the foundation wearing protective gloves and a mask. We would like to wish all the best to all of you! Take care of yourselves!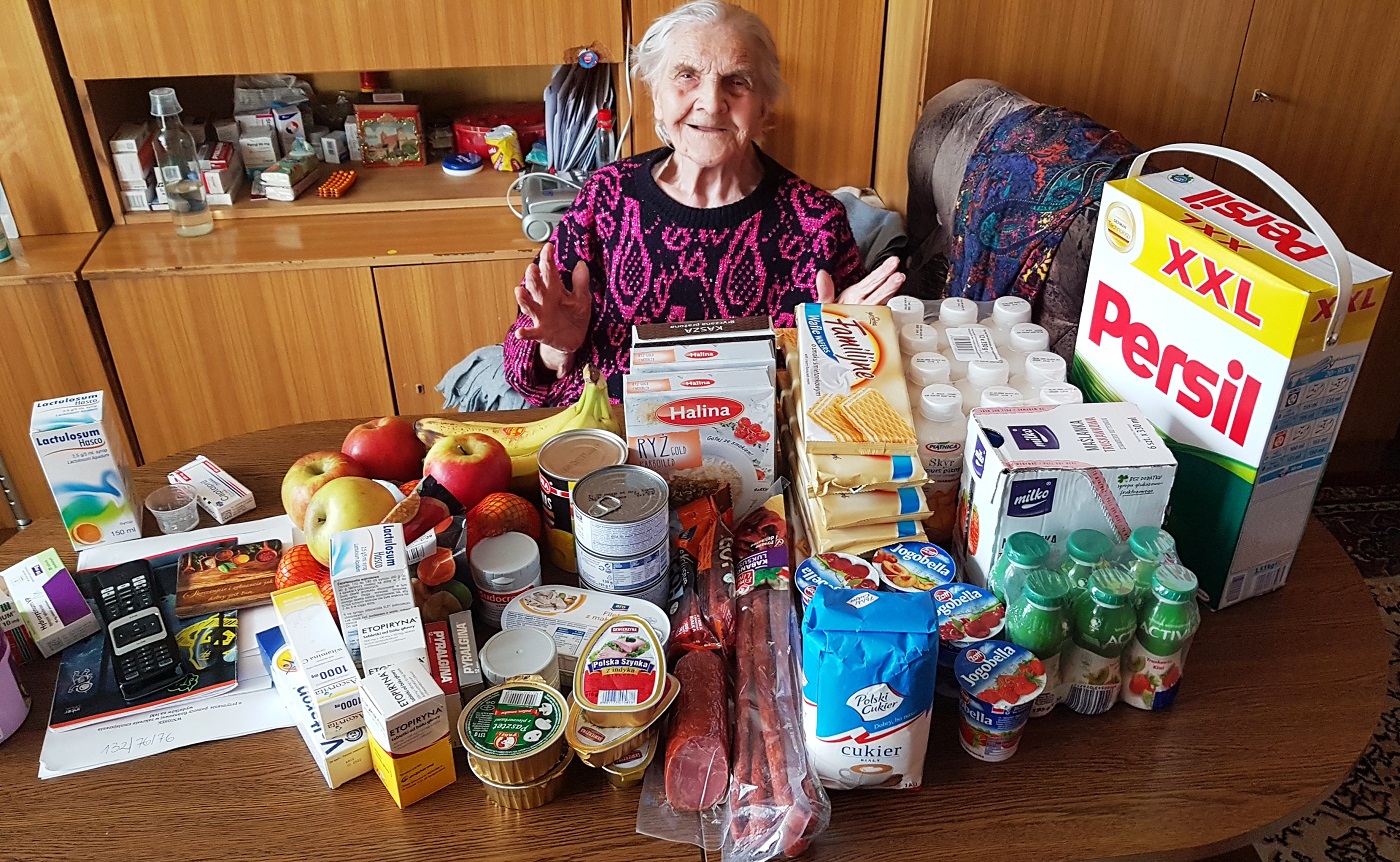 29-11-2019 - We have provided Miss Wladyslawa with food supplies which is her welcome gift for joining the group of our Charges. :)