Miss Leokadia

Please familiarize yourself with the entire description provided below. Miss Leokadia is 95. An accidental meeting caused the woman to become the protégé of our Foundation. Now, thanks to your wonderful kindness, her fate has become much more bearable. We are going to tell you the story of Miss Leokadia and encourage you to help her, as the fragile, modest lady in question requires our support very much.
The life of Miss Leokadia changed irreversibly with the outbreak of the world war. Even though she managed to survive the Warsaw Uprising, she had to deal with the death of her beloved ones, as she lost both of her parents and her brother. Unfortunately, she was unable to bury all of them in a respectful manner – the mother of Miss Leokadia died in a bombarded hospital and has never been found. Therefore, she has no grave Miss Leokadia could visit. The memory of the war and the uprising still haunt Miss Leokadia, who has claimed that with age, the burden of the past is becoming more and more unbearable.  


Donate once or regularly:

For her entire life, she has been working hard and devoting her time to family. What is more, she left the house of her grandparents in Warsaw for her husband and has never had the opportunity of returning there. The husband of Miss Leokadia passed away, but the woman can live on thanks to her modest pension, which has to be spent to pay for recurring bills, food, basic hygienic products, and medications. Costs are high and she has no one to help her. Her beloved ones passed away and new generations tend not to remember about the elderly. Our protégé has accepted her faith. As she has said, she could possibly count on the companion of her female friends, but there are not many of them left, as those elderly women have been dealing with various illnesses or passing away.
Miss Leokadia suffers due to a severe pain. Her back keeps reminding her about its existence and buying medication requires remarkable funds. An exemplary set of medications includes 8 drugs that would ease the pain of Miss Leokadia, but they have to be provided to her first. Aside from that, our protégé also struggles with the consequences of a bacteria-induced illness that she suffered from in 2012. Her body has never fully recovered – water is still accumulating in one of her lungs, so constant treatment is necessary, so is the regular supervision of medical professionals. On top of all that, Miss Leokadia has recently had an accident which has resulted in her breaking some bones.
Protégés of the Foundation are typically very humble and positive individuals – Miss Leokadia is surely one of them. We would like to encourage you to check out our conversations with her and familiarize yourself with her story. We would like to ask you for support – Miss Leokadia loses her hope and faith in the future. She has been recently talking about death a lot and has been stating that she has been exhausted. She has been exhausted with the struggle, experiences, and her life that has never been too kind to her.  
The gathered funds will allow us to purchase medications and basic everyday items for the lady in question. We would also like to perform basic renovation works in Miss Leokadia's room, such as sink replacement. The said item is in a very poor condition as of nowadays. We believe in your engagement and we know that we can count on your help.  
We will inform you about all the undertakings performed for Miss Leokadia via our website. We have been showcasing all the goodness that can happen thanks to our Donators. On behalf of Miss Leokadia, we would like to thank you all for even the smallest support!   
Needs we gather funds for:
Buying foodstuffs and medications - needs in this regard are realized on regular basis.
Buying widely-accessible medications and those prescription-only ones – we realize said needs on the ongoing basis.

New TV

- Provided.
Replacement of kitchen furniture and sink.

A Radio Receiver.

Provided
Replacement of balcony-specific doors and windows – they are not getting stuck now and even a strong wind cannot open them. Dimensions of the windows : one of the windows is 157 cm wide and 145 cm high, the window next to the door is 150 cm wide and 145 cm high, whereas the door is 90 cm wide and 218 cm tall.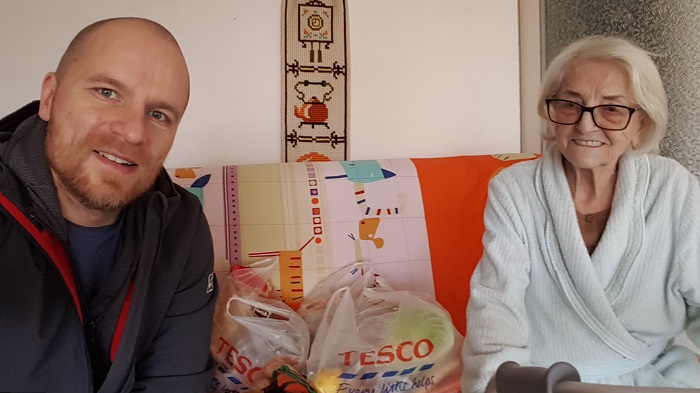 Donate once or regularly:

Or you can make a direct bank transfer "For Miss Leokadia":
Bank details:
mBank S.A.
Skrytka pocztowa 2108
90-959 Łódź 2
BIC/SWIFT: BREXPLPWMBK
SORT CODE: 11402004
Account number depending on currency:
PLN: PL35 1140 2004 0000 3002 7709 9827
USD: PL39 1140 2004 0000 3612 1128 1047
GBP: PL92 1140 2004 0000 3812 1128 1062
Euro: PL63 1140 2004 0000 3112 1128 1054
Before making the donation, please familiarize yourself with our terms. 
The Foundation is in possession of proper documentation and has verified the needs of the Charge.
22-12-2020 - Two wonderful packages for Mrs. Leokadia in one photo. We would like to thank Mrs. Barbara and her family for the package, as well as Mrs. Maria for giving Mrs. Leokadia once again.
03-12-2020 - The smiling Lodzia is pleased with the delivery and setting up her kitchen, namely: two cabinets, a gas stove with an oven and a sink :). Mrs. Lodzia, we hope that the new equipment will serve you well!
06-11-2020 - Recently, we handed over to Mrs. Leokadia the groceries we had bought and a package with books and chocolate, sent to us from Mrs. Maria. :). Thank you.
02-07-2020 - We have provided Miss Leokadia with a radio :)
11-05-2020 -  Last week, we provided Miss Leokadia with a parcel donated by Miss Barbara. It was unique in character, as aside from foodstuffs and beautiful personal gifts for Miss Lodzia, the parcel included a beautiful picture drawn by Miss Barbara's son. We were very touched by that.:)
05-05-2020 - We have given Miss Leokadia a new TV. It's a large, 42'' one :) We are sure that it will make it possible for Miss Leokadia to spend time in a more pleasant manner than the old one that was only 14".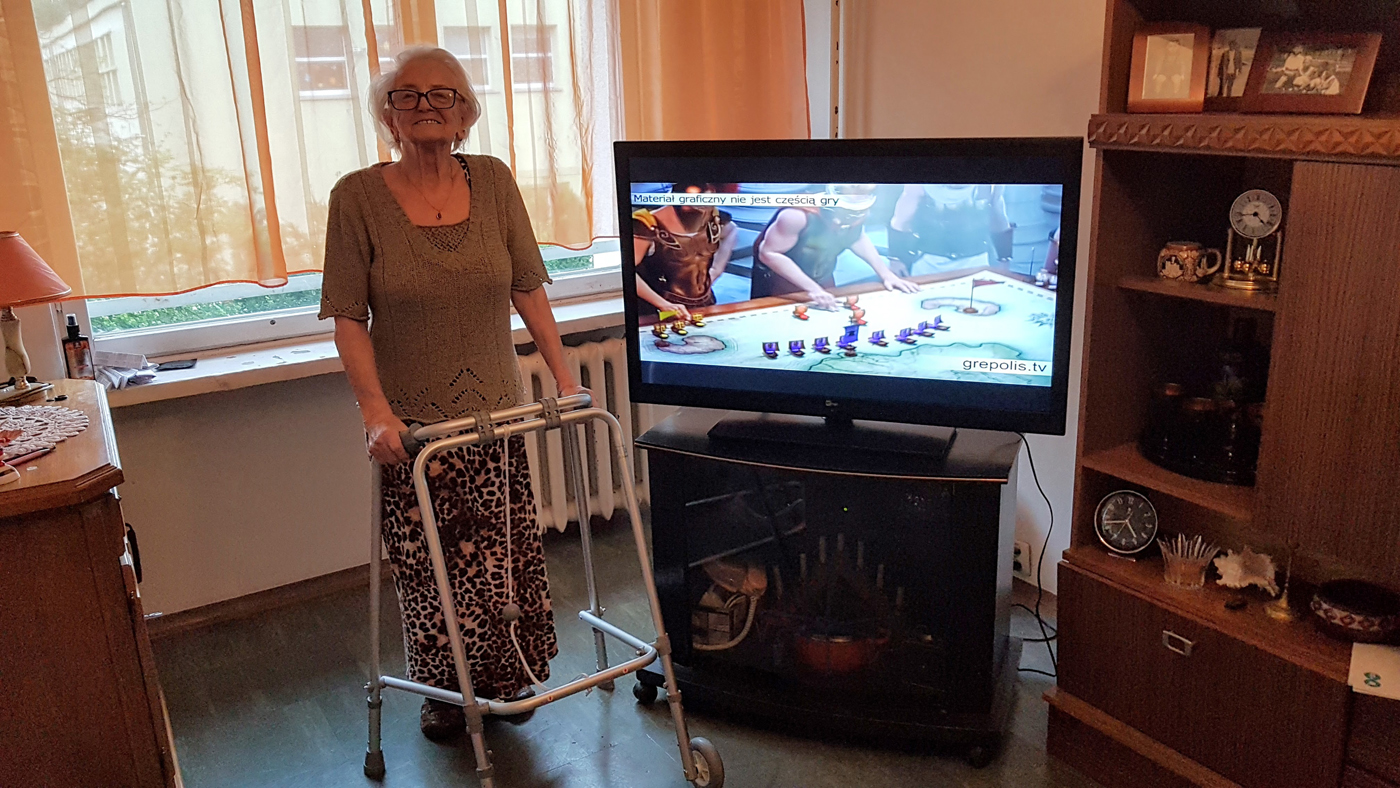 17-04-2020 - We have provided Miss Leokadia with a parcel:). We have received it from Miss Maria and Szymon's Team. Details are included in the photo :).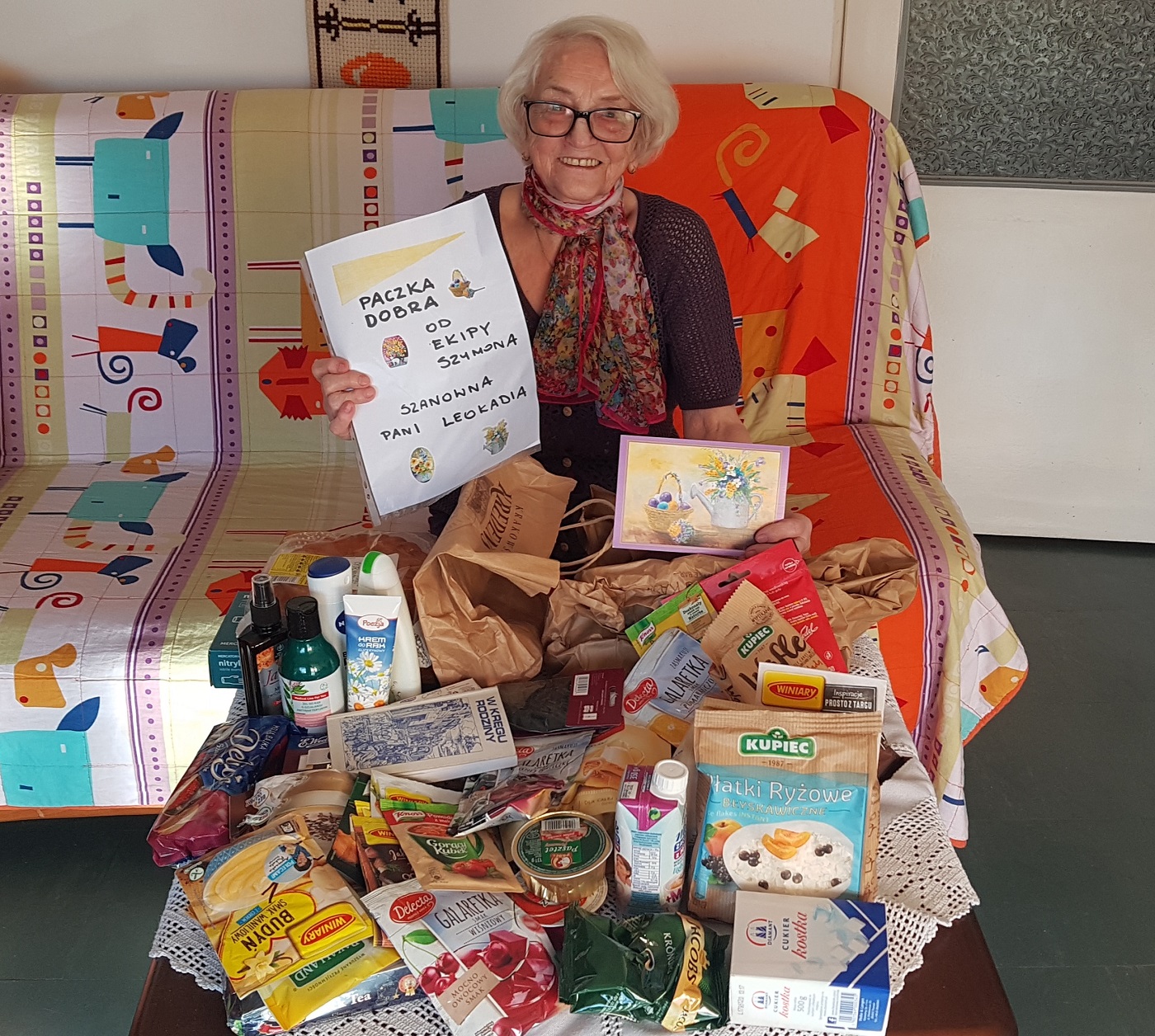 18-03-2020 - We have visited Miss Lodzia and provided her with basic foodstuffs and freely available medications she has been asking for.