Michael

Please familiarize yourself with the entire description provided below. Due to his health condition, Michael could not contact us by himself. His mother, Catherine, did it for him. Michael does not walk or speak - he does not communicate with words, suffers from optic atrophy, and is completely dependent on the care of others. He is catheterized and suffers from pain caused by bladder stones. He also has been issued a severe disability certificate. Suffering is an inseparable element of Michael's life, so we hope that thanks to our joint efforts, Michael's struggle with the disease will become a bit more bearable. Michael is 25 and will never be independent. He has been suffering from quadriplegic cerebral palsy since birth and has also been struggling with epilepsy.


Donate once or regularly: 
Being a mother is always a challenge. It is difficult to even imagine the amount of work and commitment required to take a proper care of a disabled child slowly becoming an adult. Catherine knows perfectly well how much effort and resources are needed to take care of him. The deformations of Michael's spine and chest make rehabilitation under the supervision of a physiotherapist indispensable. Further costs are generated by medications that Catherine's son has to take continuously, in addition to pharmacological and hygienic measures, including urostomy rinsing fluids, syringes, and many other items. Michael consumes milk and flavored porridges - similar ones are given to small children. We must also inform all the interested individuals about additional expenses, such as a bottle warmer that also have to be covered by the mother. Providing at least a minimum comfort of life for a person with such a poor health condition is really important. Catherine - just like every mother - wants the best for her child. Round-the-clock care offered to an adult disabled person is a huge physical and mental burden.



Needs we collect funds for:              
Home rehabilitation for Michael. - It lasted from 30.01.2021 to 30.04.2022. Sessions took place regularly, 3 times a week. Each one lasted 1 hour.
CPM splint-based therapy recommended by the rehabilitator. Recommended basing on the condition of Michael's legs (contractures, deformations, spasticity). - Therapy lasted from February 8th  2021 to April 30th 2022. It was based on taking advantage of a rail rented by the foundation.

Anti-bedsore mattress

. - Provided.

Rehabilitation equipment specified by the physiotherapist: wedges, fittings and half-foam rolls for legs and torso.

- Provided.
Medical and hygienic measures: urostomy irrigation fluid, catheter cleaning fluid, hygienic pads, diapers, syringes, needles, disinfecting fluid, and anesthetic gel. - We meet these needs on an ongoing basis.

Providing support in terms of purchase of accessories necessary for Michael's proper nutrition, namely: electric bottle heater with sterilization function, anti-colic bottle, and a mug with a silicone mouthpiece

. - Provided.
Purchase of both generally available and prescription-based medications for Michael. - We meet these needs on an ongoing basis.

Drip stand.

- Provided.

Providing support in terms of purchasing the equipment needed for health control: wrist-attached blood pressure monitor and finger pulse oximeter, non-contact thermometer

- Provieded.

Portable first aid kit.

- Provided.

Electric kettle.

- Provided.

Steam cooker - to facilitate preparing meals for Michał. Starting from May 2021, he will be on an easily digestible diet

. - Provided.

Air humidifier to be set up in Michael's room.

- Provided.

Piston inhaler for Michael.

Michael has already spilled water several times during inhalation based on the utilization of an ordinary bowl, so his mother has decided to take care of his safety and asked us for support in terms of purchasing an inhaler. - Provided piston inhaler.
Purchase of household chemicals, cleaning products, and cosmetics for the entire family, especially for Michael, such as wet wipes. - We meet these needs on an ongoing basis.
Purchase of food for the whole family. For Michael- food typically served to young children, like: flavored porridges and Bebiko 5 Junior milk. - We meet these Michael's needs on an ongoing basis.
Purchase of items of clothing for the entire family. For Michael - mainly T-shirts and pajamas. Michael wears sizes 158/164. Kasia's size is L /44.
Providing support with regard to paying bills: rent, electricity, gas supply. - We meet these needs on an ongoing basis.
Stationery and decorative items for Michael. At home, Michael is educated under the supervision of a teacher. They perform various manual tasks together. - We meet these needs on an ongoing basis.
Overall improvement of Michael's living, intellectual, and entertainment-related conditions - it has been achieved by purchasing, for example, a small TV set for our Charge's room. We want to increase the comfort and attractiveness of Michael's life.

Printer

- said equipment is needed primarily for printing Michael's medical records. - Provided.
Help in fulfilling Catherine's dream about having her or her husband Wojtek's driving license.
Sewing machine and materials for Catherine. Sewing is Catherine's hobby and a way of unwinding. Above all else, it gives her the opportunity of modifying and repairing clothing items, as well as bedding.

Help in purchasing a new, medium-sized TV for the family. The previous 15-year-old device has stopped working

. - We have provided a TV with a bracket allowing for hanging the item on the wall. 
Providing support in purchasing fuel for the heating season. Firewood for kindling and coal as fuel. The family requires 2 cubic meters of wood and 2 tons of coal. - We meet these needs on an ongoing basis.

Replacement of old household appliances, especially the gas stove with an oven, and the supply of new ones, such as an under-cupboard hood

. - Realized.
Towels,

bed linen, pillowcases.

For Michael anti-allergic bedding. 

- We have provided pillows, a duvet, two sets of sheets and two bedding kits. 

 
Donate once or regularly:
Or you can make a direct bank transfer "For Michael"
Bank details:
mBank S.A.
Skrytka pocztowa 2108
90-959 Łódź 2
BIC/SWIFT: BREXPLPWMBK
SORT CODE: 11402004
Account number depending on currency:
PLN: PL35 1140 2004 0000 3002 7709 9827
USD: PL39 1140 2004 0000 3612 1128 1047
GBP: PL92 1140 2004 0000 3812 1128 1062
Euro: PL63 1140 2004 0000 3112 1128 1054
Before making the donation, please familiarize yourself with our terms.
The Foundation is in possession of proper documentation and has verified the needs of the Charge.
23-06-2022 - Medical, hygienic, and chemical products are goods that we have recently donated to Michael.
20-05-2022 - Today, we would like to show you a video from Michael's rehabilitation in April.
26-06-2022 - We have provided Michael with medical and hygienic products, namely: bandages, compresses, bed pads, catheters, inflatable tubes, wet wipes, and goods alike.
08-04-2022 - Today, you can check out a video clip with Michael as a protagonist during his home rehabilitation in March :)
12-03-2022 - Quite recently, we have provided Michael with many medical goods, such as syringes, needles, inflatable tubes, catheters, drips, as well as disinfectants and ointments. We have also taken care of covering monthly costs of renting a CPM rail and home rehabilitation sessions organized under the supervision of a specialist, Mr. Marek :)
01-03-2022 - Michael has received a drip stand from us. It is a piece of equipment that will be very useful to him, especially while taking into account the fact that he receives drips at home several times a week.
22-02-2022 - Shopping for key items for Michael in medical stores is a key point of our mission :)
31-01-2022 -  Michael continues rehabilitation at home three times a week. Today, in addition to photos from rehabilitation in January, we would also like to show you a photo of Michael's mother, Catherine, her husband Wojtek, a rehabilitator Mark, and a nurse who gives Michael drips. The said team, managed by Catherine, takes care of Michael on a daily basis :).
19-01-2022 - Michael has been given drips at home for some time. As of currently, he gets them four times a week. We support him in the purchase of the products required for this purpose, both infusions themselves and devices that allow for the administration of drips, such as vents and infusion equipment.
18-01-2022 - We have handed over an air humidifier to Michael. Thanks to said device, there will be healthy air characterized by an optimal level of humidity in the room of our Charge. Such air improves the defense against viruses in the upper respiratory tract and reduces the susceptibility to infections.
21-12-2021 - Today, we would like to show you a video of Michael's rehabilitation, as he has been bravely and uninterruptedly training since the beginning of this year. He exercises three times a week under the watchful eye of Mark, a physiotherapist :).
15-12-2021 - We handed over a big batch of items to Michael and his mother, Catherine. We bought all the required items in several medical stores. In the case of taking care of a bedridden person, such products are essential.
15-11-2021 - We have donated some clothes to Catherine a jacket, hat, sweater and knee socks for Michael.
19-10-2021 - The beginning of the heating season is a big expense for our Charges, who have to take care of heating in their apartments on their own. This is, for example, the case when it comes to Michael and his family. That is why we have supported them in covering said large expense and donated two tons of coal and wood that are ready to be used as kindling.
15-10-2021 - We gave Michael and his family a 40-inch TV with a wall mount :).
27-09-2021 - In September, Michael could also count on us with regard to covering the costs of a monthly home rehabilitation and the rent of a CPM splint.
10-09-2021 - Another large package of decorative items was delivered to Michael. He will be using them during his final year of education.
09-09-2021 - We already know Catherine, Michael's mom. We know that she is a coffee lover :). Therefore, a coffee machine that was given to us by our Donor, Mr. Rafael has been provided to her :). Michael has received foam fittings for rehabilitation, which Catherine has utilized as a cover for the wooden barriers of Michael's bed so that he would not bump into them during his epilepsy attacks. 
08-09-2021 - Today, we would like to show you a video being the summary of Michael's rehabilitation in August.
03-09-2021 - On September 1st, with the beginning of the new school year, Michael also started his next, yet unfortunately the last year of education. Together with his mother, Catherine they are very happy to start attending school. We have provided Michael with school supplies, stationery, and decorations for his education to be even more pleasant.
23-08-2021 - We provided Michael with many products bought in online pharmacies. Liners, diaper pants, syringes, meals in jars, a non-contact thermometer and much more.
02-08-2021 -There was no movie showing Michael's rehabilitation for some time, so we catch up and share a proper clip with you. Our Charge is always very brave. We continue to cover monthly the costs of his home rehabilitation and renting the CPM splint :).  
29-07-2021 - We have equipped Michael with an anti-bedsore mattress, pneumatic head washing pool, anti-slip mat, washcloths, and a few cosmetics.
26-07-2021 - We made a lot of purchases for Michael and his family. The goods provided were mainly food products, but also cleaning agents and chemicals.
15-07-2021 - We have helped Michael and his family to settle their electricity bill for two months.
02-07-2021 - June is another month of rehabilitation and rental of the CPM splint for Michael. We have also donated medications and hygiene products to him.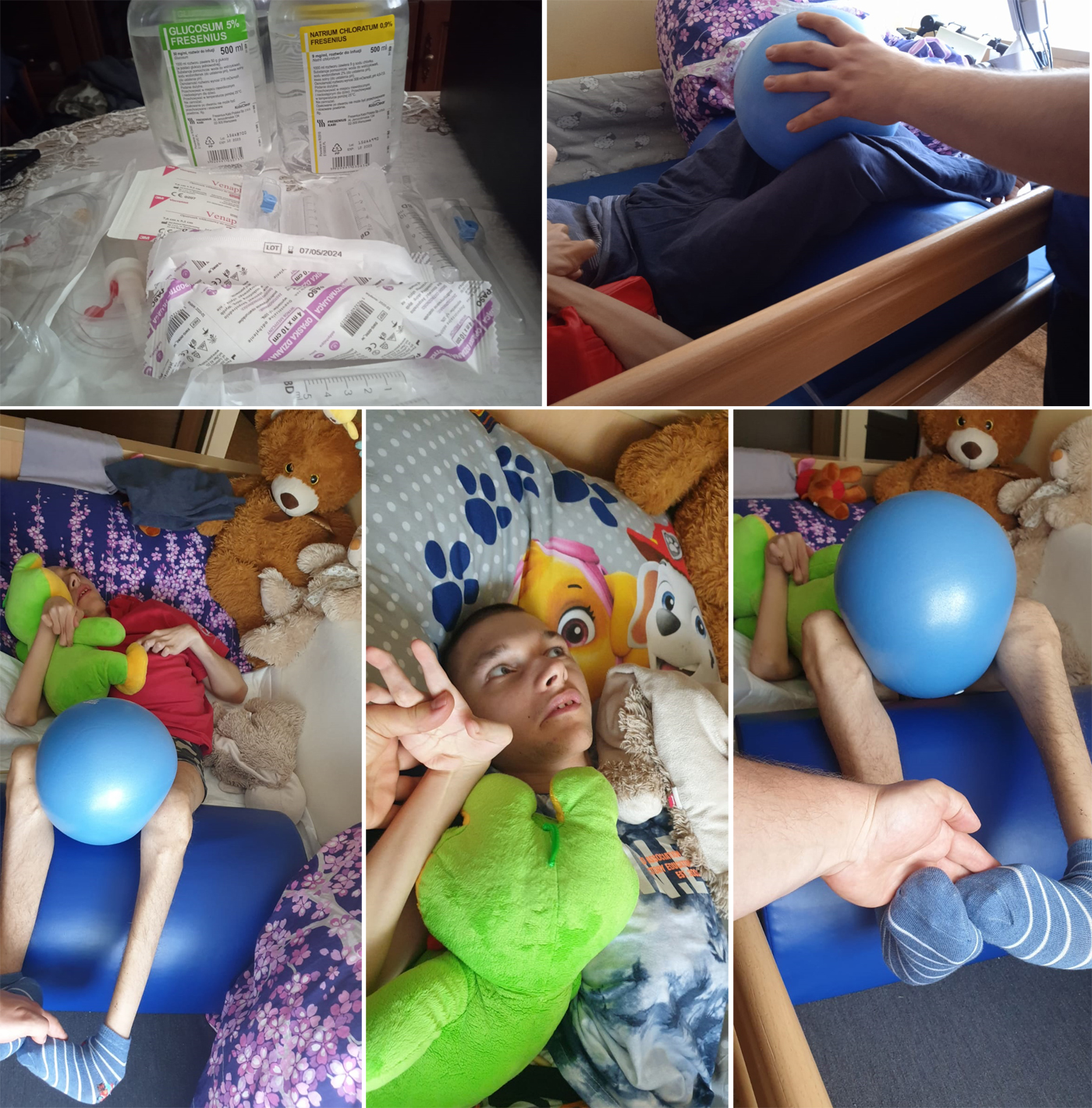 25-06-2021 - We handed over a multifunctional device with printing, copying and scanning functions along with a supply of ink to Michael :) We have also provided him with chemical, food, and hygiene-related products.
31-05-2021 - Due to the need to switch Michał to an easily digestible diet, there has been a need to buy a steamer. We have donated said equipment to Michael together with an electric kettle. :). We have also covered the costs of Michał's monthly home rehabilitation and CPM splint rental.
27-05-2021 - Another set of products bought in a pharmacy has delivered to Michael, but it has not only included medications. The package has also contained food products, a piston inhaler, and an everyday use cup for Michael.
14-05-2021 - We have purchased clothes for Michael in an online store. The set includes T-shirts, blouses, underwear, and pants :). The package contains clothes for Michael, shoes and a skirt for Catherine, as well as pants for Wojtek :).
13-05-2021 - Today, we publish the film showing tireless Michael during his rehabilitation session in May. We have covered the cost of Michael's monthly home-based rehabilitation for April, as well as the cost of renting a CPM rail for the entire April.
10-05-2021 - We have provided Michael with an anti-allergic duvet and pillows, as well as with a set of two sheets and a bedding.
21-04-2021 - We have provided Michael with devices allowing him to control his vital functions, namely -finger pulse oximeter and wrist blood pressure monitor.
16-04-2021 - Today, we would like to show you a movie presenting our brave Michael during his rehabilitation session in April :).
09-04-2021 - Before Easter, we sent a package to Michael - it was a rehabilitation mattress. March was the second month of us fully covering the costs of home rehabilitation of Michael and the costs of renting a CPM rail for the entire month.
02-04-2021 - Shopping, shopping :). Prescription and non-prescription medications, hygiene and medical articles, including: pads, diaper pants, urostomy rinse, catheters and delicious lunch dishes and desserts. Everything for Michael :).
25-03-2021 - Today Michael during his rehabilitation :).
18-03-2021 - We are very proud of works created by Michael under the watchful eye of his teacher - Iwona. They are full of joy and are connected with the themes of spring and Easter. As we all know, Easter is just around the corner :).
17-03-2021 - Michael's health is our priority. We have provided him once again with a catheter irrigation fluid. The mother - Catherine who has been caring for Michael, has received syringes and disposable gloves. Michał has also been given a well-equipped first-aid kit, which will certainly be useful not only at home, but also - during trips to the doctor, while traveling, or during walks.
12-03-2021 - It has been a long time since there was a movie about Michael's rehabilitation, and he constantly and bravely exercises three times a week :).
11-03-2021 - We provided the first batch of plastic and decorative accessories to Michael.
10-03-2021 - Michael keeps going on and making progress in terms of rehabilitation. He exercises regularly and with a great commitment :). 
09-03-2021 -We have provided Michael's family with groceries and chemicals for everyday use. 
01-03-2021 - Today, we would like to show you yet another video from Michael's rehabilitation taking place at the end of February.
16-02-2021 - Other items recommended for the proper rehabilitation of Michael are wedges, fittings, as well as foam half-rounds to be used to take care of the legs and torso of the patient. We have provided Michael with them and he knows what to do with them :)
15-02-2021 - Last week, Michael continued his rehabilitation. During his sessions, he started exercising with a CPM rail. The Foundation decided to rent said rail from and basing on the recommendation of a physiotherapist, especially due to significant mobility limitation of the hip and knee joints of the patient. Michael's mother has been trained in that regard and knows how to use said equipment properly. Thanks to said fact, Michael can exercise not only in the presence of a physiotherapist. It is a remarkable advantage :).
11-02-2021 - The most important thing for us is to take care of Michael's health, but we also do not neglect his other needs. Our reliable Donors help us provide the required support. This time, we would like to thank one of our Donors, Ewa for the package with clothes presented in the photo and addressed to Michael and his mother, Catherine :). Thank you very much!
01-02-2021 - Michael finished the last week and started the current one in a very intensive manner, namely - by focusing on rehabilitation. From now on, he will exercise regularly, for one hour, three times a week. He is very brave and we are very proud of him. Congratulations, Michael! :)
29-01-2021 - Another shopping session :). Medical goods, food and everyday accessories for Michał, such as: an electric heater with a sterilization function, an anti-colic bottle, and a cup with a silicone mouthpiece.
27-01-2021 - We have some good news for you !!! This Saturday, on January 29th, 2021, Michael will start his rehabilitation :). As part of agreement concluded with the rehabilitator, Mark, we have decided that the Foundation will cover the costs of rehabilitation for the next few months. We are waiting for Saturday, when we will determine the best amount of hours of rehabilitation per week for Michael.
25-01-2021 - Brave Michael requires many medical and hygienic goods to survive in at least bearable conditions. For the first, but certainly not for the last time - we have provided Michael with a catheter cleaning fluid, urostomy rinsing fluid, diapers, pads, syringes, needles, as well as with an anesthetic gel.
12-01-2021 - We are very happy that we have been able to meet one of many needs of the family so quickly. We have started with equipping the kitchen. We have provided the family with a free-standing Amica gas stove with an electric oven, as well as with an under-cabinet hood. What is more, we have also taken care of installing the new stove and taking the old one out.
30-12-2020 - Michael and his family wish us all for the upcoming New Year :) : "May the world be full of warmth, joy and friends for you in the New Year. And let your home never run out of love and understanding."
21-12-2020 - The most beautiful Christmas card in the world was made by Michael. We are very touched and very grateful! Michael, thank you very much, you are great :).