Julia

Please familiarize yourself with the entire description carefully. Julia is 18, but her life is far different from the lives of her peers - mainly because she suffers from cystic fibrosis - in both abdominal and lung form. Because of said disease, doctors, hospitals, examinations, and treatments are inseparable parts of Julia's everyday life Cystic fibrosis is not the only opponent Julka has to deal with. There are also comorbidities: diabetes, celiac disease, hypothyroidism, and cirrhosis. The last one is the most terrifying one, especially when the then fourteen-year-old Julia and her mother, Marlena, learned about the issue in 2018.
Donate once or regularly:  
Before the diagnosis, Julia was struggling with increasing, unbearable abdominal pain, severe abdominal circumference, as well as leg, arm, and face swelling. Breathing difficulties also developed with time. After being hospitalized in an emergency room and passing a series of tests, it turned out that the enlarged circumference of the abdomen was ascites caused by liver cirrhosis. The situation was so serious that the girl was taken to the Children's Health Center in Warsaw to undergo examinations and qualification for liver transplantation. In the meantime, she also underwent specialized lung and performance tests. Unfortunately, she also had to deal with yet another difficulty. Drugs administered for 3 weeks of intensive lung treatment should have been administered intravenously, but Julia's veins could not withstand them and a central intake system was needed.


It is just a description of a few weeks in Julia's life. It has to be said that the description itself is rather scary. If you want to get to know Julia better and learn more about her struggle with diseases she has been suffering from, we would like to encourage you to visit her channel: https://www.youtube.com/channel/UCKXMfW5SJJEVsdIhAEa3isA - she decided that despite her illness, she would create her online channel to share her everyday life with others. She talks about problems with health and treatment, thereby showing people what cystic fibrosis is. She copes with all the difficulties like a real champ, but she admits that it has not always been the case and that she has had moments of doubt, weakness, and rebellion.


(Julia with her younger sister Ola)
Every day spent with beloved ones is the source of comfort and joy for her, despite the huge amount of medications she has to take. Currently, doctors are in control of Julia's health condition and life in general. In order to maintain said condition for as long as possible, it is necessary to visit the Children's Memorial Health Institute in Warsaw to undergo examinations under the supervision of numerous specialists (including pulmonologist, gastroenterologist, liver transplant clinic, gynecologist, as well as ENT specialist) and take part in physiotherapist appointments in Bydgoszcz. A significant sum of money is also needed for medications and dietary items (high-calorie, low-salt, and gluten-free ones). Visits to the pulmonary clinic are aimed at improving the condition of the lungs so that - if a liver transplant is necessary - the lungs will not jeopardize Julia's chances for normal life in the future. Julia's lungs require an intensive drainage therapy, i.e. - the removal of mucus that is sticky like plasticine.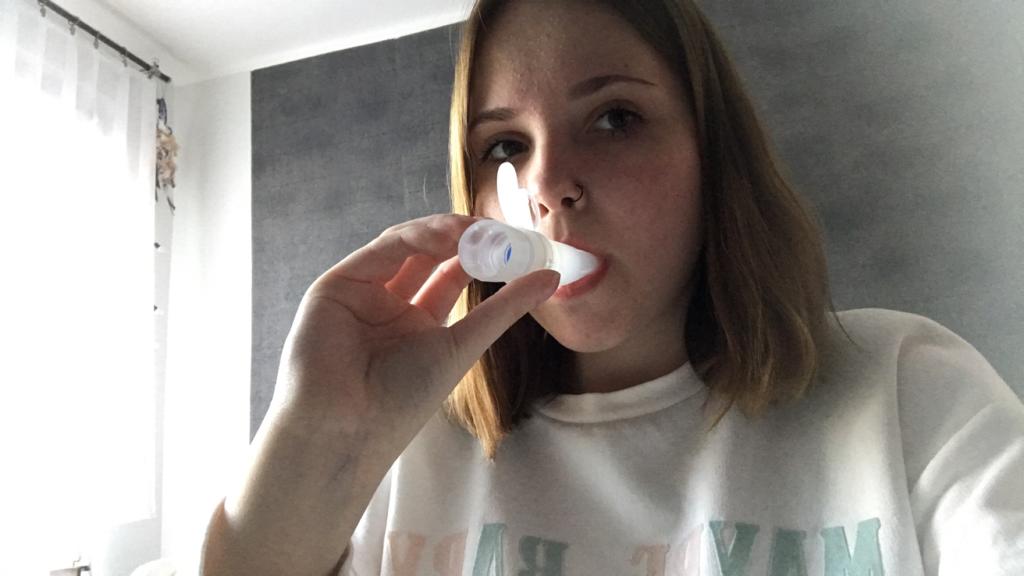 Julia takes advantage of a medication-based program, thanks to which she does not have to cover the huge cost of the treatment by herself. The only condition that has to be met is to answer every call and request regarding tests (lung function, sputum culture, MRI, tomography). The aforementioned program is designed to prevent the further spread of bacteria in Julia's lungs or to at least minimize it. PSEUDOMONAS AERUGINOSA is a deadly bacterium that develops in a moist environment. Julia was qualified for said program due to the fact that she developed resistance to almost all medications, including Colistin, which is commonly used in the case of the discussed infection.
Cystic fibrosis is an insidious disease that attacks from nowhere at the most inopportune times and does severe damage to patient's body. He or she has to undergo necessary procedures every day, as without them, he or she would not be able to function. Said treatments consume most of free time Julia could have spent on going out with her peers or on her hobbies. In order to breathe, she must be very disciplined in terms of inhalation and undergo drainage several times a day - in order not to lead to mucus build-up, exacerbations, and pneumonia. There are days, when she simply cannot get out of bed and catch her breath. 


Needs we collect funds for:
Purchase or assistance in the purchase of a device called Simeox that is used for autogenous drainage.

Julia has to undergo airway drainage every day to remove residual secretions. She tested the aforementioned device during one of her last visit to a physiotherapist and it turned out that in her case, it is more than effective. Julia and her mother have independently obtained funds for Simeox and the equipment has been with Julia since 02/05/2022.
Providing support in the purchase of generally available medicines and those prescription-based ones. - We meet the needs in this regard on an ongoing basis.
Providing support in terms of financing inhalers, nebulizers, and drainage equipment, including

filter tubing for Simeox device.

- Provided.
Providing support in buying Julia food products suitable for her diet (high-calorie, low-salt and gluten-free ones). - We meet the needs in this regard on an ongoing basis.
Providing help in financing trips to the Children's Health Center in Warsaw - in terms of travel costs, but also medical examinations and consultations, if such are necessary. - We meet the needs in this regard on an ongoing basis.
Assistance in financing physiotherapist visits in Bydgoszcz, including travel costs. - We meet the needs in this regard on an ongoing basis.
Medical care for Julia with regard to consultations, medical examinations, and covering - partially or fully - the costs of treatments involving the supervision of specialists, such as a dermatologist and a dentist.
Support with paying bills for Julia and her family's apartment. - We meet the needs in this regard on an ongoing basis.
Providing support in taking care of the family car to maintain it in a good working condition. Some repair costs. - We meet the needs in this regard on an ongoing basis.
Providing support in supplying Julia and her family with clothes and shoes. Julia's clothing sizes: S-M, she is 161 cm tall and her shoe size is 38. Ola's clothing size: 104-116, shoes: 24-25, Marlena's clothing size 34-36, height: 168 cm, and shoe size: 37. 
Camera - it is Julia's biggest dream. We hope that we will be able to fulfill it in time.


 

Donate once or regularly:  
Or you can make a direct bank transfer "For Julia"
Bank details:
mBank S.A.
Skrytka pocztowa 2108
90-959 Łódź 2
BIC/SWIFT: BREXPLPWMBK
SORT CODE: 11402004
Account number depending on currency:
PLN: PL35 1140 2004 0000 3002 7709 9827
USD: PL39 1140 2004 0000 3612 1128 1047
GBP: PL92 1140 2004 0000 3812 1128 1062
Euro: PL63 1140 2004 0000 3112 1128 1054
Before making the donation, please familiarize yourself with our terms.
The Foundation is in possession of proper documentation and has verified the needs of the Charge.
28-04-2022 - We provided Julia with nutritional supplements, a remedy for intestinal problems, inhalation salt and an inhaled bronchodilator.
26-04-2022 - At the beginning of April, Julia visited a physiotherapist in Bydgoszcz. A few days later she went to the Cystic Fibrosis Treatment Clinic located in Poznan. We covered travel costs of both visits, as well as the cost of the physiotherapist-oriented appointment.
05-04-2022 - Last week, Julia had an appointment with a gastroenterologist in Poznan. We supported our Charge by means of covering travel costs.
30-03-2022 - We have provided Julia with medications that our Charge has to take on a permanent basis. We have additionally given her an antibiotic that Julia has to take due to the increasing severity of her illness.
12-03-2022 - Julia's life is predominantly oriented towards taking care of her health. We support her in those endeavors to the greatest extent possible. Recently, in addition to donating medications and covering the cost of travel to the cystic fibrosis clinic in Poznan, we supported Julia with regard to bearing the costs of root canal treatment performed by a dentist.
22-02-2022 - Quite recently, Julia has received medications from us, as well as we have covered the costs of travel to the hospital in Poznan and to a physiotherapist in Bydgoszcz. We have also taken care of covering the cost of the visit to the physiotherapist.


26-01-2022 - Despite her very young age, Julia has to deal with a lot of duties pertaining to her health on a daily basis. One of them is following a gluten-free diet. We help her in that regard on an ongoing basis.
19-01-2022 - We covered the cost of Julia's visit to a physiotherapist in December and the cost of the return trip.
18-01-2022 - We covered the costs of Julia and Marlena's next trip to Warsaw and back, as well as provided the key medications to our 18-year-old Charge. Julia celebrated her eighteenth birthday a few days ago - we wish you all the best, Julia !!!
16-12-2021 - During the last visit to the Children's Memorial Health Institute, we helped Julia by covering the costs of traveling to and from Warsaw.
15-12-2021 - One of the nebulizers Julia uses for her inhaler has broken down. We have decided to help her and handed over a new equipment to her, together with another batch of medications.
09-11-2021 - Antibiotics, probiotics, and high-calorie supplements - these are only some of the medications we have recently given to Julia.
08-11-2021 - Julia has to strictly follow a gluten-free diet. We have been helping her do that and that is why we have provided the teenager with a supply of gluten-free food products.
27-09-2021 -  Julia waited for a long time to visit a physiotherapist in Bydgoszcz, but the visit was finally arranged. The appointment was of key importance, as it involved the use of a new equipment - Simeox. It turned out to be very effective in the case of Julia. We covered the cost of the visit and the trip. We also provided Julia with the required medications.
20-09-2021 - Our help for Julia is primarily focused on her treatment. Therefore, we have donated another batch of medications to help improve her health condition.
08-09-2021 - A well-functioning car is very important for Julia. Together with her mother, Marlena, she often travels to the hospital or to the physiotherapist. When it comes to Julia's disease, it is safer to avoid public transportation. Until now, Marlena has been afraid to travel from Koszalin to Warsaw for examination-related purposes by using her car, because it has not been 100% operational. However, we have managed to take the vehicle to a decent workshop, where the following components have been replaced: articulation covers, brake lines, oil lines, window lifter, rocker sleeve, indicator system, and air conditioning components. 
26-08-2021 - Another large dose of medications was sent to Julia. It included antibiotics, vitamins, and iron. During the last visit to the Children's Memorial Health Institute, which took place a week ago, we helped Julia cover the costs of traveling to Warsaw and back.
29-07-2021 - Dear Donors, Friends, and Acquaintances! We would like to thank you all for your selfless help, support, warm words and wishes sent in the comments on the fundraising website. We are very touched and happy that so many of you support Julia and her fight against cystic fibrosis, as well as  the issues that comorbidities caused. The fight has to be fought 24 hours a day, 7 days a week. We are not able to predict what the next day will bring, but knowing that we have such wonderful people around us, we are ready to face everything and fight with all our strength for Julia's life. We would not be able to do that without you. Dear Friends, thank you again and please stay with us, Julia needs you. Best regards, Marlena and Julia.
26-07-2021 - We have recently provided Julia with a remarkable amount of medications. We are very sorry that she needs so many of them.
23-07-2021 - Last week, we sent a large package of clothes to Julia, her mother, and her younger sister, Ola. We hope that each of the ladies found something for herself in the mix :) In addition to the clothes, there was also a tourist backpack and a microphone that Julia can use while recording her vlogs :).
01-07-2021 - The school that Julia attends organized a remarkable action - it has been collecting plastic caps for our Charge. In a short time the whole big heart in front of the school has been filled with them. Our task has been to collect the plastic and cash it, hence our visit to Koszalin. We would like to thank the nun Dalia for the efficient coordination of this noble action :).
29-06-2021 - During the last visit to the Children's Memorial Health Institute, we helped Julia cover the costs of travel to and from Warsaw, as well as the costs of accommodation in the capital city of Poland. What is more, we have provided Julia with the necessary medications.
25-06-2021 - Today, yet another school year ended. It was the time to collect diplomas and start summer holidays !!! Julia managed to reach a brilliant grade average of 5.1 and she received a diploma with honors! Julia, we are very proud of you! Your determination and work during the school year are extraordinary. Congratulations and we wish you a great holiday period!
23-06-2021 - Julia and her mother Marlena spent the last few days in Warsaw, in the Children's Memorial Health Institute. This trip was associated with a visit to the clinic specializing in liver diseases and transplantology, as well as and tests that had to be done before the next 30-day dose of Tobramycin. This was a very stressful research for Julia, but we learned from Marlena that the transplant doctor answered all the questions of our patient and took a proper care of a very nice atmosphere. We also know that Julia's results are satisfactory, although they could be better. We keep our fingers crossed for it to happen!
18-06-2021 - We covered both gas and electricity bills for the resources used in Julia and her family's apartment.
28-05-2021 - Julia has an appointment with a physiotherapist in Bydgoszcz in less than a month. During said visit, she must have the appropriate equipment with her - a cable for the airway cleaning apparatus - Simeox. We do not wait for the last minute in the case of such important matters, so the cable has already been provided to Julia :)
27-05-2021 - Julia fights not only with cystic fibrosis, but also with liver cirrhosis, which causes dermatological problems. That is why we have provided her with medications she needs.
17-05-2021 - We contributed at least a bit to the last trip of Julia and her mother to the Children's Memorial Health Institute in Warsaw, namely - we covered the cost of train travel. We also helped said family to settle electricity bills for two months. 
04-05-2021 - We have donated the initial set of foodstuffs to Julia. Due to their medical condition, many products must be excluded from their diet, including gluten. That is why we have provided her with two large packages of gluten-free products.
02-04-2021 - We provided Julia capsules to support the absorption of vitamins.
31-03-2021 - We have provided a package full of clothes for Julia's younger sister - Ola. She is so cute and sweet :). We received the package from Izabela. Thank you very much for it!
24-03-2021 - We are pleased to announce that we have already been able to start helping Julia :) We have supported the teenager in question in terms of paying for her medications and trips to Bydgoszcz in order to take part in consultations with a physiotherapist. We have covered the cost of said consultations as well. We have also helped her cover the cost of train tickets. Destination: Warsaw - Children's Memorial Health Institute.